X-Ray Services Available Now in Connell
We are excited to announce the addition of our X-Ray service now available to patients in our Connell Clinic!
In the past, we've had to refer patients who were needing x-rays out to our Othello Clinic, which is about 30 min away. This was an inconvenience for our patients to schedule extra time to drive there, but now our patients have the convenience of having this service in-house.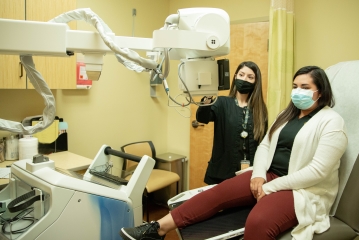 Our X-Ray Machine is a state of the art mobile unit. What's awesome about this, is that we will be able to roll the X-Ray machine into the patient's exam room, rather than having the patient move to a different room. This is very helpful for our patients who can't move around easily, relieving them from having to leave the room.
The process is very simple. Our Radiology Technician will take the machine into the exam room, place the x-ray plate under the patient's body part that she will be examining, then take a picture. It's that easy! Since everything can now be done under one roof, patients will be able to get their results within 24-48 hours of their visit.
We know that this has been a need for our community in Connell, and we are excited to be able to provide this service. With the implementation of X-ray services, we can better serve our community by having all the care you need under one roof.
Learn about our Radiology Technician.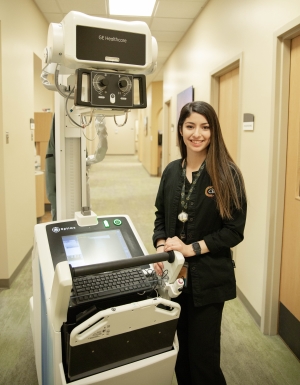 Aliyah Martinez is the Radiology Tech at our Connell Clinic. She will be in charge of taking x-rays for our patients in Connell.
She grew up in Connell until she was around the age of 6, then moved to Othello. She completed a Running Start course at CBC and transferred to Wenatchee Valley College soon after. She knew that she wanted to be a Radiology Tech when she was 13 and had hurt her ankle. "I had to get X-rays done, and the Radiology Tech showed me the X-Ray of my ankle and named every bone. He inspired me to want to help and educate others when they get hurt," says Aliyah.
Aliyah enjoys being part of CBHA because of the way we care for the different communities we serve. "I like that CBHA doesn't turn anyone away. They provide for everyone in the community, and I get to be part of that," says Aliyah.
She is ARRT certified, which means she has her credentials through the American Registry of Radiologic Technologist, as well as being State Certified. Before joining CBHA, she gained much experience working at the Confluence Clinic and the Samaritan Hospital, both in Moses Lake, working as one of their Radiology Techs.
Aliyah is very excited to be at the Connell Clinic, and can't wait to start seeing patients!