Firestarter Spotlight - Emanuel Munos
Join us in congratulating Emanuel Munos on his Firestarter Award!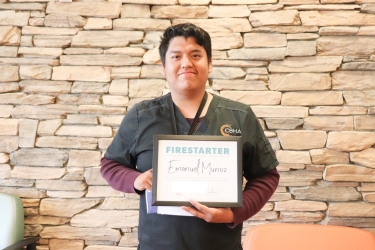 Emanuel is a Medical Assistant - Phlebotomist at our Wahluke Clinic. He is a very polite and caring coworker. He is always willing to help in any place that he is needed. He is someone who will go above and beyond and will stop what he is doing to help another co-worker with whatever task they are working on.
Every patient that comes in to see him, always has something good to say about him. He is especially good with younger children. It can be scary getting your blood drawn when you are a child, and he does a great job at keeping them calm and comfortable through the whole process.
Emanuel is a very reliable co-worker and respectful towards his peers and patients. We are so happy to have him as part of our Wahluke Medical team.
Get to know Emanuel:
When did you start at CBHA?
I started working at CBHA in 2017.
What is your title and job duties?
Currently, I am a Medical Assistant - Phlebotomist. Some of my job duties include performing venipuncture, arterial punctures and collecting, processing and finding results of fluids.
What do you like best about working for CBHA?
The best part is the amount of opportunities that CBHA has to offer to us as employees.
How has CBHA helped you in your career development?
CBHA has help a lot in my career, and continues to help me every day after. I am very thankful for my career and this organization.
What has been your favorite project at work so far?
My favorite project so far, and a project I will never forget, is when we went out to different sites to do COVID Testing for the H2A workers. I love the feeling of helping others.
What motivates you to wake up and go to work?
My patients motivate me. It's so rewarding knowing that what I am doing, is helping someone live a better life.
Tell us something about yourself that would surprise us.
One thing to know about me is that I am a very shy person. So I don't do well in large crowds, or giving a speech in front of a lot of people. The surprising thing about me is that I am currently the lead singer for my church, and I am not shy on stage. Doesn't make sense, right? Yeah, doesn't make sense to me either.
What would you do (for a career) if you weren't doing this?
I would be probably be landscaping, if I wasn't doing this.
Favorite travel spot?
Favorite spot to travel would have to be Seaside, Oregon. It is the most relaxing place I've ever been to.
When you have 30 minutes of free-time outside of work, how do you pass the time?
I like to play, and practice music. I also like spending time with family and working on my yard. I am currently rebuilding my whole front yard.
Anyone you would like to thank or final words?
I would to first and for most thank God, who has help me throughout my journey and continues to help me. I also want to thank everyone with CBHA because everything that I have learned has been from someone here. There is still so much for me to learn.