Firestarter Spotlight - Maria Mendoza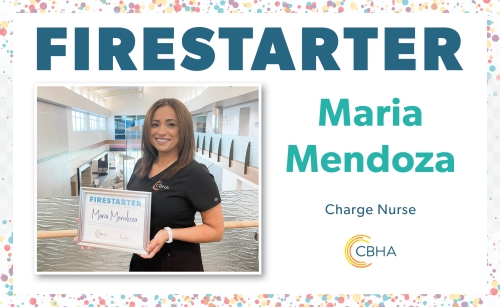 Join us in congratulating Maria Mendoza for receiving Firestarter!
Maria is a Charge Nurse at our Othello Clinic. She is a leader for the charge nurse group and has trained and mentored many staff on the nursing team.
She seeks opportunities to learn and improve on her skills every chance she gets. Maria has worked her way up in the nursing department. She is committed to making CBHA excellent and lives it out daily by her dedication to patient care and teamwork.
We are so happy to have Maria as part of our team!
Get to know more about Maria:
When did you start at CBHA?
I started on May 12, 2008.
What is your title and job duties?
I am a Charge Nurse. I work with providers and their teams along with different departments to provide better patient care. I triage patients, start IV's, assess wounds, perform dressing changes, educate patients etc. I also have the pleasure of working with Dr. Freeman, our podiatrist that travels from Kadlec.
What do you like best about working for CBHA?
The best part about working for CBHA is knowing that I'm helping patients feel better.
How has CBHA helped you in your career development?
When I finished with my nursing prerequisites, I started at CBHA as a Certified Nursing Assistant. While working, I had the opportunity to apply for my Healthcare Assistant Certification. When I was accepted to the nursing program, I was given the opportunity to continue working at CBHA while pursing my LPN the first year, and finishing out with my RN the second year.
What has been your favorite project at work so far?
I believe working as a team with my fellow RN's in this pandemic has been challenging. Working through the pandemic has pushed my limits physically, mentally and emotionally. I have learned how to adapt to change quickly and effectively to provide the best patient care.
What motivates you to wake up and go to work?
What motivates me to go to work every day is my two boys and working in a career that I'm passionate about.
Tell us something about yourself that would surprise us.
When I was a teen, I went to Mexico for several months to learn how to design and make clothes.
What would you do (for a career) if you weren't doing this?
If I wasn't doing this I would be running a business in home renovation.
Favorite travel spot?
I love going to California because I love hot weather.
When you have 30 minutes of free-time outside of work, how do you pass the time?
I like to spend time with my boys and family.
Anyone you would like to thank or final words?
I would like to thank the person who nominated me for recognizing my hard work. I also want to say thank you to everyone working through this pandemic at CBHA and sticking together.