Firestarter Spotlight - Pablo Melo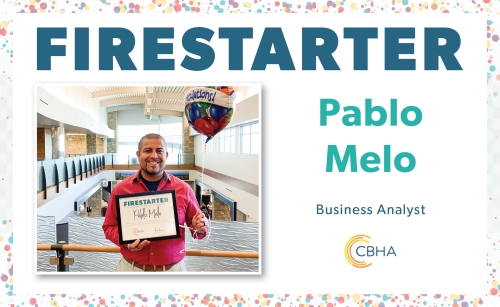 Join us in celebrating our Firestarter Pablo Melo, Business Analyst. Pablo has been with CBHA for 22 years total, and has helped create a more efficient system of data entry.
Pablo is an amazing co-worker, and builds great communication with his peers to accomplish projects with his team. He organizes technical solutions that support our clinical and administrative operations.
He does a great job of turning data into information, information into insight and insight into action. We are so happy to have Pablo as part of our team!
Get to know more about Pablo:
When did you start at CBHA?
I started my career at CBHA in 1995. I left to do IT for 5 years and returned to CBHA in 2019 (22 years in total).
What is your title and job duties?
I am a Business Analyst. I am responsible for all reporting and data related projects. I also help in the implementation of tools to improve processes and efficiencies.
What do you like best about working for CBHA?
I like working for CBHA because I know I am working for a company that values their employees and patients.
How has CBHA helped you in your career development?
CBHA has provided the tools and courses to help obtain my MCSA (Microsoft Certified Solutions Associate) Business Intelligence Certification.
What has been your favorite project at work so far?
My favorite project so far has been reporting business intelligence for COVID related data, as well as the implementation of chatbots for pre-screening our patients prior to their appointment.
What motivates you to wake up and go to work?
I am motivated to come to work every morning because I feel accomplished and valued.
Tell us something about yourself that would surprise us.
I played chess in elementary and placed 2nd in a state tournament.
What would you do (for a career) if you weren't doing this?
If I were not doing this, I would join Law Enforcement.
Favorite travel spot?
My favorite place to travel to is Cozumel, Mexico.
When you have 30 minutes of free-time outside of work, how do you pass the time?
I like to spend my free time with my family.
Anyone you would like to thank or final words?
I would like to thank all of my peers for making my job challenging, but at the same time enjoyable. I would also like to thank my supervisor for supporting and encouraging me to obtain my MCSA certification, and providing the tools I need to do my job efficiently and effectively.