Firestarter Spotlight - Santos Perez
Congratulations to our Firestarter, Santos Perez!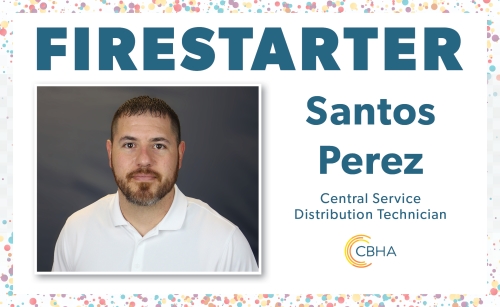 Santos works at our Othello Clinic as our Central Service Distribution Technician! He takes pride in his work and is always assisting his fellow co-workers in any help that they need.
Along with handling shipments and making sure that everything is being processed correctly, Santos is always lending out a helping hand to other departments who need it.
While, Santos doesn't see our patients, he does meet with many of our vendors and ensures that they have a pleasant experience through their encounter.
We are so happy to have Santos on our CBHA Team!
Get to know Santos:
When did you start at CBHA?
Feb, 29th 2016 (Leap Year!)
What is your title and job duties?
My job title is, Central Services Distribution Technician. I work in the shipping and receiving department and help make orders for medical, dental, and facilities. I also stock medical and dental exam rooms so my fellow employees have supplies to start off the day.
What do you like best about working for CBHA?
The people who work at CBHA make it feel like you're part of a big family. I also love the way that CBHA is involved in our communities and show how much they care outside of the exam room.
How has CBHA helped you in your career development?
I started off receiving and delivering packages to destinations. Now I am stocking, placing orders, and keeping inventory for medical and dental so we don't run out of supplies.
What has been your favorite project at work so far?
Implementing a scanning process for ordering medical supplies. This makes it much faster and easier to train new employees.
What motivates you to wake up and go to work?
Knowing that CBHA is providing the best care for our communities and helping make a difference in people's lives. It motivates me to be better at what I do, so my co-workers can be better for our patients.
Tell us something about yourself that would surprise us.
I am a volunteer fire fighter for Adams County District #5.
What would you do (for a career) if you weren't doing this?
I would be a PE teacher! I love being around kids.
Favorite travel spot?
I know it's not a single spot, but Hwy 101 Oregon coast line. I like all the towns and scenery, and that it's next to the ocean.
When you have 30 minutes of free-time outside of work, how do you pass the time?
I like to go Pokémon hunting with my kids!
Anyone you would like to thank or final words?
I would like to thank my wife Estella Perez and our kiddos. If it wasn't for her encouraging me to apply to CBHA, I would still be making cattle feed and coming home stinky. I also want to show my kids that there is more opportunities out there and not to settle for the first paying job.