Firestarter Spotlight - Joe Vela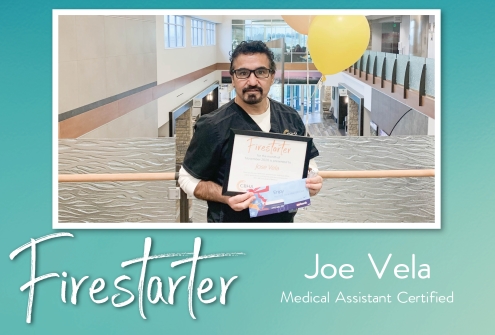 Joe is an MA-C at our Othello Clinic! He is great with all of our patients and he shows constant respect towards everyone. He is someone that you can always count on at work, and is appreciated by all his coworkers.
Joe is always helping with training and lending his coworkers a helping hand. He's quick to answer questions for his coworkers and his patients. He demonstrates a positive attitude and makes work feel less stressful on busy days.
We are so happy to have Joe as part of our Team! Congratulations!
Get to know more about Joe:
When did you start at CBHA?
I started working at CBHA in April of 1994.
What is your title and job duties?
I am a Medical Assistant Certified. Some of my responsibilities include: taking patients to exam rooms, taking vitals, making calls, cleaning instruments and packaging instruments.
What do you like best about working for CBHA?
I love that I get to care for our patients every day. It brings me a lot of joy!
How has CBHA helped you in your career development?
When I first started at CBHA, I was in transportation. CBHA helped me move up in careers and get certified to be a Medical Assistant.
What has been your favorite project at work so far?
I have gotten to assist providers in minor surgeries before. It was really cool to see and I got to learn!
What motivates you to wake up and go to work?
My family is my motivation to get up and come to work every day.
Tell us something about yourself that would surprise us.
I have two kids.
What would you do (for a career) if you weren't doing this?
If I wasn't doing this, I would be a Forest Ranger. I like the outdoors.
Favorite travel spot?
My favorite travel spot is Hawaii.
When you have 30 minutes of free-time outside of work, how do you pass the time?
I really love gardening, so you can find me outside when it's warm. I also enjoy being with my family, making memories.
Anyone you would like to thank or final words?
I would like to thank Annie Coronado, PA-C and Leo Martinez MA-C for all their help.