Firestarter Spotlight - Devyn Lynch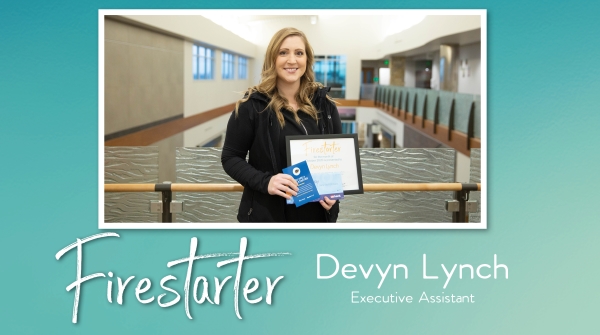 Congratulations to Devyn Lynch for receiving the Firestarter Award!
Devyn is an Executive Assistant at CBHA and was chosen as Firestarter for many reasons including her accountability, demeanor and work ethic. She goes above and beyond in her work and conducts herself in a professional manner at all times. Devyn has learned to anticipate what her co-workers need and is prepared for all situations that come her way. Odds are you don't have to ask her for something because she has already thought about it and has done it for you.
She has excellent customer service when working with our patients, visitors and colleagues. Devyn always greets everyone with a smile and a friendly and welcoming appearance. She is open to suggestions in her daily work and is eager to improve workflows. She takes initiative to get her tasks done in a timely and professional manner.
Devyn is the go-to person for our executive team. There is never a request that she isn't willing to tackle and achieve. We are lucky to have an employee like her at CBHA!
Get to know more about Devyn:
When did you start at CBHA?
I started on September 21st 2015.
What is your title and job duties?
I am an Executive Assistant. My day-to-day duties include; assisting the CEO, CFO and Executive Team, being a liaison for the Board of Directors & CPAC (CBHA Patient Advisory Committee), working on projects and event planning (All Staff Meetings, Staff Luncheons, Conferences, Trainings, Cycle@CBHA, Color Run), coordinating meetings and managing calendars for CEO & CFO (Executive Team as needed) and coordinating travel for the Executive Team.
Even though it's not part of my direct job duties, I have been a lead for the Positive Pulse Committee (employee wellness program) since starting at CBHA. Boosting the program participation was one of the first projects I was assigned at CBHA.
What do you like best about working for CBHA?
I like the culture and environment at CBHA. It feels like a big family which makes me want to come to work each day.
How has CBHA helped you in your career development?
CBHA has supported my career development by allowing me to attend multiple conferences. I have been lucky enough to attend Studer's Engagement Conference, The Administrative Professionals Conference and Creative Pro Week. All of which I learned a lot and was able to bring back my new skills to CBHA. I was also able to earn my PACE (Professional Administrative Certification of Excellence) Certification last year.
What has been your favorite project at work so far?
One of my favorite projects that I am able to work on at CBHA is the 5K Color Run. I have helped with the coordination since the event started 3 years ago. There is so much that goes into putting on this awesome event but it is so rewarding when you see it all come together. I love that such a fun community event is also able to raise money to give back to our communities.
What motivates you to wake up and go to work?
I'm motivated by all of the great work CBHA does for our communities. Although I do not have direct patient interaction I know that the work I do on the Administrative end helps our staff serve our communities.
Tell us something about yourself that would surprise us.
After getting our two lab puppies 4 years ago, I learned about training hunting dogs and have trained our dogs along with my husband. We now all go hunting together. We usually hunt pheasants but also ducks and geese. People are usually surprised that I am a hunter!
What would you do (for a career) if you weren't doing this?
I would either be working for a marketing company or for my family's Rub Company (B's Rubs).
Favorite travel spot?
Maui is my favorite spot but I also like the Big Island. When we aren't able to travel to Hawaii I really like Scottsdale, Arizona as well. Pretty much anywhere warm.
When you have 30 minutes of free-time outside of work, how do you pass the time?
It would take more than 30 minutes but on my free time I love to golf. If I'm not golfing I am working on our farm or walking my dogs, Mia and Finn.
Anyone you would like to thank or final words?
I would like to thank Kelly Carlson, VP of Administrative Services, for nominating me and for all of her support during my time at CBHA. I would also like to thank Esmeralda and Samantha for being the best admin team members! Last but not least, Nieves Gomez, CEO, and Josh Bunch, CFO, have taught me so much while working with them over the last few years.