Firestarter Spotlight - Elsa Rodriguez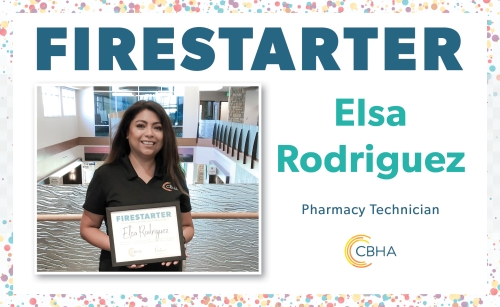 Join us in celebrating our Firestarter Elsa Rodriguez, Pharmacy Technician! Elsa has been at CBHA for 30 years and during her time here, she has created so many positive memories not only with the staff but also with patients.
When patients see her their expressions are priceless. She remembers each of them by name and makes sure they always feel welcomed. Elsa demonstrates respect to all who she comes in contact with. She values opinions, different points of views, and she is an amazing listener.
She provides guidance to new employees that come into the pharmacy department, and creates a comfortable environment. She is a great supporter for all of our pharmacists and pharmacy team.
Elsa goes above and beyond every day and we are so happy to have her as part of our CBHA Team!
Get to know more about Elsa:
When did you start at CBHA?
I started working at CBHA in June of 1990.
What is your title and job duties?
I'm a Pharmacy Technician and my main duty is to get prescriptions ready for our patients. I get to do a little of everything that involves getting a prescription ready, except for the final verification, which is done by a pharmacist.
What do you like best about working for CBHA?
My co-workers are the part about working at CBHA. I have been able to work with lots of great people in the time that I have been here.
How has CBHA helped you in your career development?
CBHA is always adapting, and has taught me not to shy away from change which has helped with my development. This has allowed me to be better at troubleshooting insurance issues. I have also been able to take on some special projects like billing and reconciliation.
What has been your favorite project at work so far?
My favorite project so far has been helping with implementation and conversion of new pharmacy management systems.
What motivates you to wake up and go to work?
The thought that I am getting closer to retirement. Yay!
Tell us something about yourself that would surprise us.
Something that might surprise some people is that I am on TikTok, and I really enjoy it!
What would you do (for a career) if you weren't doing this?
If I wasn't doing this, I would probably be doing real estate.
Favorite travel spot?
Favorite place to travel would have to be any place in Mexico, especially Cancun!
When you have 30 minutes of free-time outside of work, how do you pass the time?
I love being on TikTok!
Anyone you would like to thank or final words?
I would like to thank our great pharmacy team at all 3 sites. Also, a special thank you to Joanna Valdez, PSR - It is an honor to have been nominated by such a great co-worker!