Firestarter Spotlight - Maria Alatorre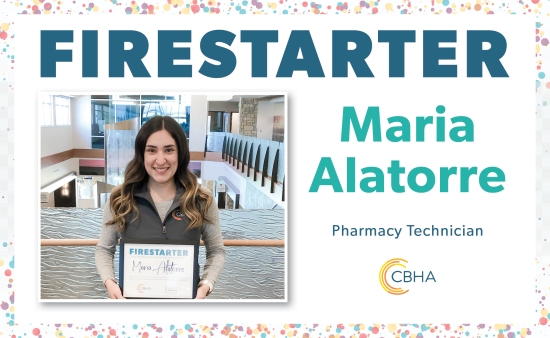 Let's give a big shout out to our Firestarter, Maria Alatorre! Maria is a Pharmacy Technician at our Othello Clinic.
She is an exceptional employee who makes her patients her first priority. She goes out of her way to update patients while they are waiting for their medications and answer any questions or concerns they may have.
Maria does well in completing tasks as soon as they are given to her. She has shown that she can be held accountable with anything that is directed to her. Maria is mindful of those around her and is always showing respect and kindness to her coworkers and patients.
She shows up to work every day with a positive attitude, ready to take on the day and strive for excellence. We are so happy to have her as part of our Pharmacy Team in Othello!
GET TO KNOW MORE ABOUT MARIA:
When did you start at CBHA?
I stared working at CBHA in January of 2015.
What is your title and job duties?
As a Pharmacy Technician, I work with a program called Medsync. I sync patient's medications and give them a call when thier medications are ready to be refilled. I also process scripts into the pharmacy management system and fill them. Overtime, I've organized pill boxes for patients to help them ensure that their medication is being taken properly.
What do you like best about working for CBHA?
What I like best about working for CBHA is the satisfaction of helping people every day.
How has CBHA helped you in your career development?
CBHA helped me in my career by giving me the opportunity to be trained as a Pharmacy Technician while I was a Pharmacy Assistant.
What has been your favorite project at work so far?
My favorite project at work is giving immunizations. I never imagined myself giving vaccines to patients and I am glad I have the opportunity to do so, especially now with the pandemic and the need for COVID-19 vaccinations.
What motivates you to wake up and go to work?
What motivates me to go to work every day is being able to help people and knowing that the work I do is rewarding.
Tell us something about yourself that would surprise us.
Something about myself that would surprise you is that I was a teen-mom twice.
What would you do (for a career) if you weren't doing this?
If I weren't doing this I think I would be a nurse.
Favorite travel spot?
I love traveling to Hawaii.
When you have 30 minutes of free-time outside of work, how do you pass the time?
When I have free-time outside of work I like to spend time with my family.
Anyone you would like to thank or final words?
I would like to thank my co-worker, Elsa Rodriguez, for believing in me when I didn't believe in myself.