CBHA Research Team Presents Impact of N95 Masks
In response to the COVID-19 pandemic, the CDC advised that everyone wear a mask when they go out into public to reduce and prevent the spread of COVID-19. At the start of the pandemic, CBHA put together a COVID-19 Task Force that included a CBHA Medical Provider Dr. Mengyi (Zed) Zha, MD as the clinical liaison of the Task Force and Jude Alsarraj, PhD as a clinical team member of the Task Force.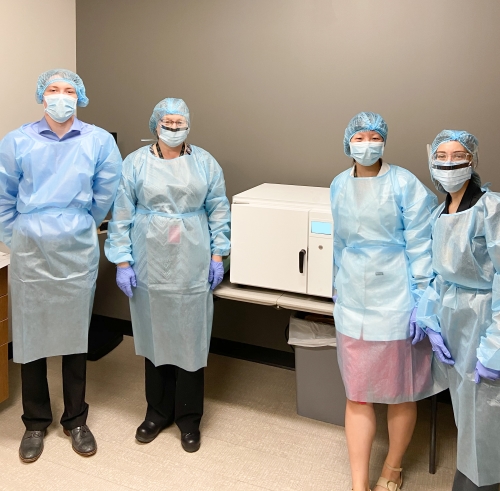 Left To Right: Brandon Bunch, Tawni Solberg, Dr. Mengyi (Zed) Zha, Dr. Jude Alsarraj
Dr. Zha and Dr. Alsarraj then formed a research team that was in charge of finding out new information about COVID-19, how to protect our employees from being in contact with COVID-19, and how to safely provide care to our patients without spreading COVID-19. "Our main job was to sit down and research everything we could find about COVID-19. This was a new virus, no one knew anything about it, so there wasn't enough research out there that said exactly what we needed to do," said Dr. Zha.
N95 masks are an example of personal protective equipment that are used to protect the wearer from airborne particles and liquid contaminating the face. The current CDC guidelines recommend that N95 masks are reserved for health care workers and other medical first responder only, as they are in critical supply. "N95 masks are disposable and are meant to be used once. But due to N95 limited supply and shortage we wanted to find out if these masks could be safely re-used by our clinical staff ," said Dr. Alsarraj.
Our research team got to work, and started with this hypothesis, "Is the substandard usage of N95 masks in clinical practice, such as extended use and limited reuse safe when utilized alone, and in combination with heat decontamination during the current COVID-19 pandemic?" said Dr. Zha.
Their research began in June of 2020, after CBHA recruited a student volunteer, Brandon Bunch. Brandon is a college student from WSU who was studying Pre-Med and was interested in medical research. Brandon was in charge of testing whether the N95 masks still safely fit the users after usage, and data collection. "During Brandon's interview, we told him how much work this was going to be, but he also knew how much he would learn, how much experience he would get from it, and how great it would be for the advancement of his professional development in medicine," said Dr. Alsarraj.
The research team conducted the study at the Dental department at our Othello Dental Clinic. Brandon traveled from Pullman to Othello about 2-3 times a week to meet with the research team and to perform N95 mask fit testing on the dental employees who volunteered to be in the study. "He would wait around in the dental department and catch an employee through the hallway in between patients and ask them if he could test their N95 mask," said Dr. Zha.
After all testing was done and the research study was completed, we learned that common use of N95 masks as part of pandemic planning are suboptimal for safety, careful utilization of these usage can still be relatively safe for healthcare workers. Furthermore, when utilizing heat decontamination, care should be taken to limit the times the N95 masks have been donned/doffed (put on/removed).
We had the opportunity to present this research at the 2021 Virtual Southern Regional Meeting in February 2021. We were also invited to present our research in person at the International Conference on Science, Engineering & Technology (ICSET-2021), but we were not able to attend due to COVID.
We want to thank the Othello Dental department, along with Dr. Choi, Chief Dental Officer, for being part of this research study. We could not have done this without them! We also would like to acknowledge and thank Tawni Solberg, MHA for technical assistance with the heat decontamination protocol and Kristen Stevens, RN for technical assistant and training of Brandon Bunch on how to perform fit testing of N95 masks.
We are very excited about the work that our research team did to find a safe solution through this pandemic. CBHA hopes to continue doing work like this with Pre- Med and medical students in the near future. "We have many other research projects that we want to do in the future," said Dr. Zha "We would love to have pre-med students, medical students, and medical residents join us on our next research studies and medical projects!"