Firestarter Spotlight - Yaritza Garcia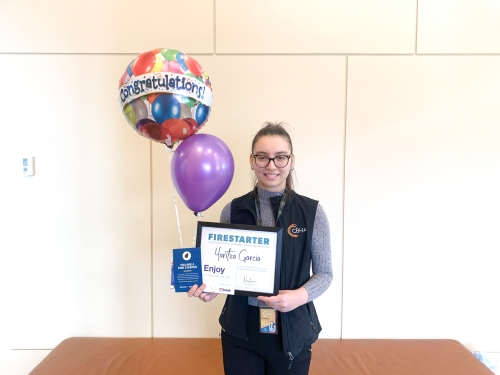 Yaritza Garcia is a Patient Service Representative II at our Connell Clinic! She is our lead PSR and has managed to train her coworkers in an efficient and timely manner. Yaritza goes above and beyond to make sure patients get the best care with us.
She is a very accountable employee and will come into work for any shift she is needed for, with no questions asked. Yaritza is added great value to CBHA by caring for patients and assisting them when they come into the clinic.
Yaritza has a bright and friendly personality that is a pleasure to have at work. She comes in everyday with a big smile on her face, and positive and a positive attitude.
Join us in congratulating Yaritza as our Firestarter! We are so happy to have her as part of our team!
Get to know more about Yaritza:
When did you start at CBHA?
I started working at CBHA on October 15, 2018.
What is your title and job duties?
I am a Patient Service Representative II! Some of my responsibilities as a PSR are: checking in and checking out patients, scheduling patient appointments, pre-registering patients/creating cases, and completing forms for Medical, Dental, Eye Care and Patient Benefits.
What do you like best about working for CBHA?
I love the atmosphere here at CBHA! I have the best coworkers and CBHA gives us the opportunity to be part of great community events.
How has CBHA helped you in your career development?
CBHA has allowed me to learn and grow in my skills. It has helped me become a leader and also open new opportunities for myself.
What has been your favorite project at work so far?
I love being part of any of the outreach events we host! I have a lot of fun seeing patients and helping the community in a different way.
What motivates you to wake up and go to work?
My motivation to wake up every morning and come to work comes from my team! We have gotten so close, they are practically my family now.
Tell us something about yourself that would surprise us.
I like feeling stressed. If I don't I don't feel satisfied.
What would you do (for a career) if you weren't doing this?
If I wasn't doing this, I think I would go into the Real Estate business.
Favorite travel spot?
My favorite travel spot is San Francisco, California.
When you have 30 minutes of free-time outside of work, how do you pass the time?
I enjoy doing Yoga.
Anyone you would like to thank or final words?
I would like to thank Nohely Velazquez, Dalina Hoffman and Juan Sandoval for always encouraging me to do better. Also to the best team that comes up with the greatest memories; Navid Fergoso, Yolina Ramirez, Jeraldine Estrada, Luz Rojas and Jaqueline Barbarin.