Nine Ways to Take Care of Your Eyes
Have you come in for your annual eye exam yet? During the month of May, we want to bring awareness to Healthy Vision in our community! Eye exams are so simple, yet so important for our vision. They should be a priority, just like eating healthy and physical activity. Let's talk about eye care and how often you should be seeing your optometrist.​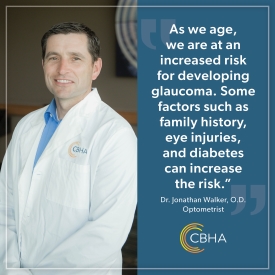 HEALTHY EYES FOR ALL AGES
The best way to stay up to date with your child's eye exam, is to schedule them the same time as their well-visits. Your child's eye doctor can help detect refractive errors such as nearsightedness, farsightedness and astigmatism as well as the following diseases:
Amblyopia (lazy eye)
Strabismus (crossed eyes)
Ptosis (drooping of the eyelid)
Color deficiency (color blindness)
"As we age, we are at an increased risk for developing glaucoma," says, Dr. Jonathan Walker, O.D. "Some factors such as family history, eye injuries, and diabetes can increase the risk."
Some groups have a greater risk of developing glaucoma, than others, like:
Adults 60 and Older
Individuals With a Family History of Glaucoma
Diabetics
Seriously Nearsighted People
WHAT DOES A COMPREHENSIVE EYE EXAM LOOK LIKE?
When you come in for your eye exam, one of our optometrist will use eye drops to widen the pupils to check for common vision problems and eye diseases. They will measure your vision by asking you to read of a chart that has letters and numbers on it.
From here your eye doctor will know if you have 20/20 vision or if you are nearsighted, farsighted or have astigmatism. This is the best way to find out if you need glasses or contacts, or are in the early stages of any eye-related disease.
NINE WAYS YOU CAN HELP PROTECT YOUR VISION
The Center of Disease Control and Prevention (CDC), give shared nine ways that you can take care of your vision during Healthy Vision Month.
Know your family's eye health history - It's important to know if anyone has been diagnosed with an eye disease or condition, since some are hereditary.
Eat right to protect your sight - In particular, eat plenty of dark leafy greens such as spinach, kale, or collard greens, and fish that is high in omega-3 fatty acids such as salmon, albacore tuna, trout, and halibut.
Maintain a healthy weight.
Wear protective eyewear when playing sports or doing activities around the home, such as painting, yard work, and home repairs.
Quit smoking – or never start.
Wear sunglasses that block 99% -100% of ultraviolet A (UVA) and ultraviolet B (UVB) radiation.
Wash your hands before taking out your contacts and cleanse your contact lenses properly to avoid infection.
Practice workplace eye safety.
And lastly, get regular comprehensive dilated eye exams.
SCHEDULE AN EXAM
To keep your eyes healthy, you can schedule a comprehensive dilated eye exam at your nearest CBHA. Call or Text us today at 509- 488-5256 to visit your Optometrist today!
Source: www.cdc.gov/visionhealth/healthyvisionmonth/index.htm