Firestarter Spotlight - Leo C. Martinez
Congratulations Leo C. Martinez on becoming Firestarter!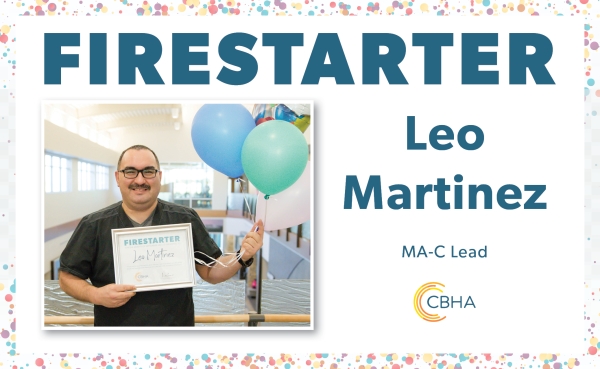 Leo is a MA-C Lead at our Othello Clinic. He always presents himself in a professional manner with staff and patients. He makes sure to always escort patients to where they need to go instead of just pointing in that direction.
Many of our staff would say that Leo is someone that you can count on in the workplace. He strives to be a model for others, especially new employees.
Along with loving his job, he really cares for his patients. He is always following up on phone calls, medication refills and patient orders. He ensures that our patients receive the best care and experience when they come into our clinic.
We are so happy to have Leo as part of our Medical Team! Congratulations on your award, Leo!
Get to know Leo:
When did you start at CBHA?
I started at CBHA in September of 2009.
What is your title and job duties?
I am currently an MA-C Lead. My job duties include taking patients into exam rooms, calling patients with their results, setting up the exam rooms for procedures, initiate prior authorization for medications that get denied by insurances, help my provider with refills, and train new hires.
What do you like best about working at CBHA?
The best part about working at CBHA is the opportunity to serve my community. I also like the interaction with my peers, especially my patients!
How has CBHA helped in your career development?
I started out as a CNA, then moved to a PSR, then MA-C, and now and now I am a MA-C lead. CBHA has always assisted and supported me with my continued education. I am blessed to work for such a wonderful organization for 11 years now!
What has been your favorite project to work on so far?
I love being part of CBHA's onboarding for new hires. This means that I get to be in peer interviews and a pal for new hires.
What motivates you to wake up and go to work?
Besides caffeine?? My patients, my coworkers, and especially my family. They all make me strive to be a better nurse. Most importantly, I really love my job.
Tell us something about yourself that would surprise us?
I used to have a ball python and a California king snake as pets.
What would you do (for a career) if you weren't doing this?
According to my co-worker Joe Vela I would be a used car salesman.
Favorite travel spot?
I love Hawaii! Seaside, OR is a close second, and of course Sushi Ya Restaurant in Kennewick. I love Sushi!
When you have 30 minutes of free-time outside of work, how do you pass the time?
Catching up on my sports news, hopefully reading about the Seahawks losing.
Anyone you would like to thank or final words?
I'd like to thank my whole nursing team but especially my team in Vineyard at the Othello Clinic. Special shout out to Annie Coronado, PA-C and both my current and former partners in crime. I would also like to thank past and present supervisors who believed in me and pushed me to be a better MA. I mentioned this already but I genuinely love my job. It is true what they say that when you do what you love you don't work a day in your life.