Firestarter Spotlight - Tawni Solberg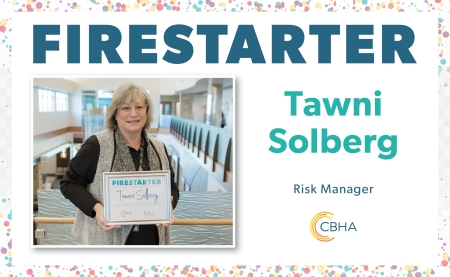 Congratulations to our Firestarter, Tawni Solberg!
Tawni has been a great asset to our team in helping implement different services at our clinics. Some projects include working with our providers to bring vasectomy services to our patients and took lead in preparing for Joint Commission visit.
She has very high expectations of herself and her staff to do what is right for our patients and according to our policies. She is part of our COVID Taskforce, and has done an excellent job of keeping a balance between keeping people safe, allowing people to get better from home and keeping an adequate number of people at work to care for our patients.
We appreciate and see the hard work that she puts in, and we are so happy to have Tawni as part of our team! Congratulations!
Get to know Tawni:
When did you start at CBHA?
My first day at CBHA was January 3, 2017.
What is your title and job duties?
Currently I am the Risk Manager – I support all departments with policy and process development and maintenance. I support continued Joint Commission and HRSA accreditation. These are the two most primary things that I do. I also head up the Infection Control Committee and sit as Co-Chair on the EOC committee along with being part of the COVID Team. There are so many other things that I do but these are what fills my days most of the time.
What do you like best about working for CBHA?
I love working with people who care so much about our patients. Working in a place that allows me to help support and care for our boots-on-the-ground hard working staff is filling. I am honored for the opportunity to learn and grow with CBHA's leadership at all levels.
How has CBHA helped you in your career development?
I came to CBHA with my Masters in Healthcare Administration, CBHA has allowed me to work in different areas allowing me to implement much of my education. I have been able to learn and continue to learn about all aspects of ambulatory care. Coming from a long-term care, pre-hospital and hospital back ground, CBHA has helped me round out my knowledge and experience in many areas.
What has been your favorite project at work so far?
I enjoy the journey of all my projects. I am driven by challenges and seek opportunities that push my skills and imagination. I would be hard pressed to choose just one but working on the Employee COVID Management Team has been a blessing. It might seem weird to hear that, but through these processes I have been able to get to know so many of our staff that otherwise I might not ever have engaged with. I have an appreciation for their deep commitment and the personal challenges they face and overcome daily. I am in awe of the strength and compassion I have encountered across the organization.
What motivates you to wake up and go to work?
My family, both at work and at home. I work to support my personal family and I work to be part of a team I can be proud of. Both things bring me joy.
Tell us something about yourself that would surprise us.
There is a lot that might surprise you about me but the little nugget I will give out today is that I hold a medical devise design patent that is used in the medical field today.
What would you do (for a career) if you weren't doing this?
I would be a criminal forensic specialist.
Favorite travel spot?
Any place I can get to on a Cruise Ship.
When you have 30 minutes of free-time outside of work, how do you pass the time?
I spend it with my husband usually laughing at almost anything.
Anyone you would like to thank or final words?
I have to thank my immediate team. They keep me grounded, focused and entertained. Without them in my day to day work life I could not accomplish the many tasks I do for CBHA and its staff. I feel truly blessed to be a Firestarter. I am so lucky to be working with all of you.