Firestarter Spotlight - Yesenia Barajas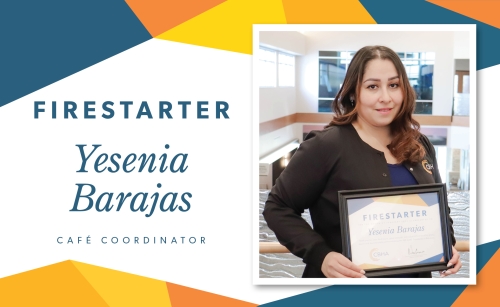 Join us in congratulating Yesenia Barajas on her Firestarter Award!
Yesenia has been with our Café since the day it opened in 2017! She is a hard working individual who truly represents what an employee at CBHA looks like. Many of her coworkers would agree that she is a reliable employee who puts our community first.
Yesenia has trained new café team members, ensuring they have all the tools and resources to be successful in their position. She also holds a big responsibility of keeping up with our Café inventory, ensuring that everything is always organized, up to date and in stock.
Yesenia has also volunteered in our Othello Community Christmas baskets, delivering food boxes to families in our communities with her son.
We are happy to have Yesenia on our team, and can't wait to see the amazing things that she will do!
Learn more about Yesenia:
When did you start at CBHA?
I started at CBHA on October 23, 2017.
What is your title and job duties?
I am the Café Coordinator. Some of my job duties include placing orders, keeping track of inventory, and training new Café team members.
What do you like best about working for CBHA?
The thing I like most about working for CBHA is the environment, this is a workplace that values and actively seeks my inputs and suggestions. I like working with people that make me feel appreciated and acknowledged the work that we do.
How has CBHA helped you in your career development?
CBHA has helped in my career by teaching me something new every day. These are skills that I am able to apply to my job and ensure that I will be able to better serve our community.
What has been your favorite project at work so far?
I don't think I have a specific project, but I do love that I can work in a positive environment where I can express my creativity in my position.
What motivates you to wake up and go to work?
Everyone's smiles! I love coming into work and being able to make staff and community member's day with just a drink. Knowing that they're happy, makes me happy.
Tell us something about yourself that would surprise us.
I love to make homemade tortillas for my family every day. And I love working out in my spare time or during my lunch.
What would you do (for a career) if you weren't doing this?
If I wasn't a Café Coordinator I think I would be a medical Spanish interpreter or work in our Family Services department.
Favorite travel spot?
I haven't really gotten a chance to travel but I would love to go to Hawaii one day.
When you have 30 minutes of free-time outside of work, how do you pass the time?
I like to go on walks on my free time.
Anyone you would like to thank or final words?
I would like to thank Alex Bountharath for nominating me. I appreciate you for believing in my abilities. I would also like to thank my supervisor, Kelly Carlson for supporting me and helping me grow in my position. Thank you CBHA for giving me this opportunity, I love what I do and I love serving this community.