Get To Know Dr. Luis Miron, General Dentist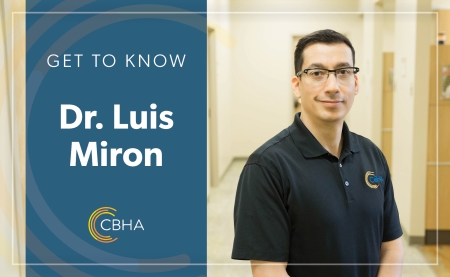 Dr. Luis Miron is a General Dentist at our Connell Clinic.
He grew up in Guatemala, Guatemala City. One of his favorite things as a child was cycling with his friends through gravel roads exploring new places. His family moved from the east coast looking for a new adventure, and that is how he ended up at CBHA.
As a General Dentist, he offers a variety of services which include, dental implants, crowns, fillings, extractions and root canal treatments. Our Connell Dental Clinic has state of the art equipment like our x-ray machine and dental instruments that help Dr. Miron provide the best care and experience for his patients.
CBHA goes above and beyond for its patients, community and staff. "I appreciate the flexibility that I am given to grow as a dentist. We're always encouraged to learn and improve our skills, so that we can expand the care that we give to our patients," says Dr. Miron. "Every day that I come into work, I walk into a positive environment with excellent values and ethical leadership. I enjoy the people that I work with, and the special bond that we all create as a team."
Our Connell community is always so thankful and kind. "A patient came in to see me one day to get dental implants. After the procedure was done, I could see how much happier they were," says Dr. Miron. He loves making a difference in patient's smiles. "They were able to chew food without feeling any pain. Those are the moments that motivate me to come into work every day."
CBHA aims not only to serve the community but to be active participants in it as well. From our students to our farmers, we partner together with a variety of businesses and coordinate events for the community to be active in throughout the year. Healthy communities create healthy people, and we strive to be successful in that every day.
We're here to support you wherever you are in your dental journey. Whether you need help relieving pain or maintaining a healthy smile, we are here to serve you.
Schedule your next dental appointment with Dr. Miron below!+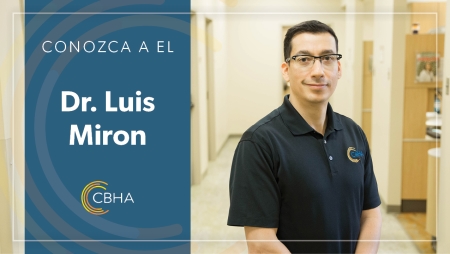 El Dr. Luis Miron es un dentista general en nuestra Clínica de Connell.
Creció en Guatemala, Ciudad de Guatemala. Una de sus cosas favoritas cuando era niño era andar en bicicleta con sus amigos por caminos de grava explorando nuevos lugares. Su familia se mudó de la costa en busca de una nueva aventura, y así fue como terminó en CBHA.
Como dentista general, el dr. Miron ofrece una variedad de servicios que incluyen implantes dentales, coronas, extracciones y tratamientos de conducto. Nuestra Clínica Dental en Connell cuenta con equipos de última generación, como nuestra máquina de rayos X e instrumentos dentales que ayudan al Dr. Miron a brindar la mejor atención y experiencia a sus pacientes.
CBHA va más allá por sus pacientes, comunidad y personal. "Aprecio la flexibilidad que me dan para crecer como dentista. Siempre nos alienta a aprender y mejorar nuestras habilidades, para que podamos ampliar la atención que brindamos a nuestros pacientes", dice el Dr. Miron. "Cada día que llego al trabajo, entró en un ambiente positivo con excelentes valores y liderazgo ético. Disfruto de la gente con la que trabajo y del vínculo especial que todos creamos como equipo".
Nuestra comunidad de Connell siempre es muy agradecida y amable. "Un día vino a verme un paciente para ponerle implantes dentales. Después de que se acabó el procedimiento, pude ver cuánto más feliz era", dice el Dr. Miron. Le encanta hacer diferencias en las sonrisas de los pacientes. "Pudieron masticar la comida sin sentir ningún dolor. Esos son los momentos que me motivan a venir a trabajar todos los días".
CBHA tiene un objetivo no solo servir a la comunidad, sino también ser participantes activos en ella. Desde nuestros estudiantes hasta nuestros agricultores, nos asociamos con una variedad de empresas y coordinamos eventos para que la comunidad participe activamente durante todo el año. Las comunidades saludables crean personas saludables, y nos esforzamos por tener éxito en eso todos los días.
Estamos aquí para apoyarlo donde quiera que esté en su viaje dental. Ya sea que necesite ayuda para aliviar el dolor o mantener una sonrisa saludable, estamos aquí para servirle.
¡Haga su próxima cita dental con el Dr. Miron abajo!