CBHA Recognized as 2022 Best and Brightest Companies by the National Association for Business Resources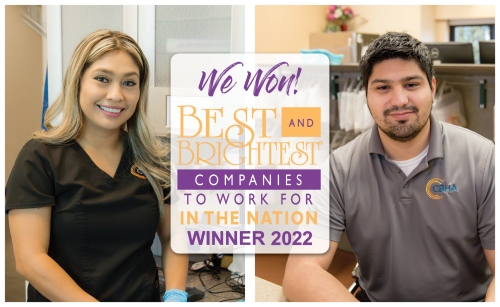 CBHA is honored to be recognized as a 2022 National Winner of Best and Brightest Companies to Work For by the National Association for Business Resources (NABR).
This competition recognizes organizations committed to excellence in operations and employee enrichment that lead to increased productivity and financial performance. They celebrate companies like CBHA, creating richer lives and building stronger communities.
"Our workforce is surveyed frequently with an emphasis on our organization's ability to communicate well, focus on work-life balance, employee education, diversity, recognition, retention, and our leadership's team ability to provide an award-winning culture of excellence," said Nieves Gomez, CEO.
"With constant change affected by the high stress and instability of the current external environment, CBHA continues to be recognized with top performance awards and boasts the highest level of workforce engagement and retention to date."
We are proud to have a workforce that serves with passion, purpose, position, and performance. Out of the 3,500 nominations this year, we were one of the 450 organizations awarded nationwide.
"These 2022 winning organizations have stood out during unpredictable times and have proven they are an employer of choice. They keep their employee's needs first and provide perks that include development, well-being, work-life balance, rewards and recognition. In addition, these winning companies offer a fantastic work culture and workplace environment that attracts and retains superior employees," said Jennifer Kluge, President and CEO of NABR and The Best and Brightest Program.
CBHA will continue to commit to our employees by nurturing employee development. "Our biggest asset is our workforce. It's all about providing opportunities for learning and offering employees the training, resources, and support they need to develop their knowledge, skills, and experience," said Kelly Carlson, Chief Administrative Officer.
To all of the individuals contributing to CBHA's culture of excellence, thank you for making CBHA the best place to work, the best place for Providers to practice, and the best place for the communities we serve to receive quality care.