Firestarter Spotlight - Maria Sandra Medina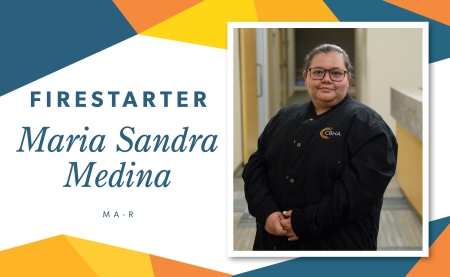 Join us in congratulating Maria Sandra Medina on her Firestarter Award!
Sandra has been an MA at our Connell Clinic for five years. She goes above and beyond with our patients. She's passionate about preventative care and always takes her time explaining to patients their health situation and how important it is to take care of themselves.
Sandra's coworkers describe her as someone who always has a smile on her face and someone you can count on to put you in a good mood. She helps out in any area that she is needed and always seems to have the answer to questions that other MAs may have.
We're so glad to have Sandra serving our Connell Community, and we can't wait to see how far she'll go!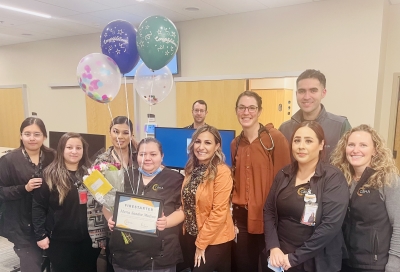 Read more about Sandra:
When did you start at CBHA?
March 6, 2017
What is your title and job duties?
I'm a certified Medical Assistant. I'm responsible for taking patients back to the exam rooms, helping with translating, administering injections/immunization, and giving patients medication when ordered by providers.
What do you like best about working at CBHA?
I love working at CBHA because I can help and interact with our patients. It's great seeing the positive impact you can make on them.
How has CBHA helped you in your career development?
I started at CBHA as Registered Medical Assistant, and CBHA helped me further my career by helping me become a Certified Medical Assistant.
What has been your favorite project at work so far?
My favorite projects are when I volunteered in all the community events. I participated in the Connell fall festival and had a great time!
What motivates you to wake up and go to work?
My children, my co-workers, and knowing the positive impact I can make on a patient's life is my primary motivation for waking up in the morning and coming in to work.
Tell us something about yourself that would surprise us.
Many people don't know that I love doing anything that has to do with interior design, reconstruction, or remodeling. I love tearing walls down and putting new walls in place.
What would you do (for a career) if you weren't doing this?
If I were not working at CBHA, I would love to be a teacher.
Favorite travel spot?
My favorite travel spot is anywhere that has a beach.
When you have 30 minutes of free-time outside of work, how do you pass the time?
When I have 30 minutes of free time outside of work, I like passing my time by reading.
Anyone you would like to thank or final words?
I want to thank the person who nominated me for this award, all my co-workers, and everyone who recognized my hard work. Thank you.