Firestarter Spotlight - Darrin Troyer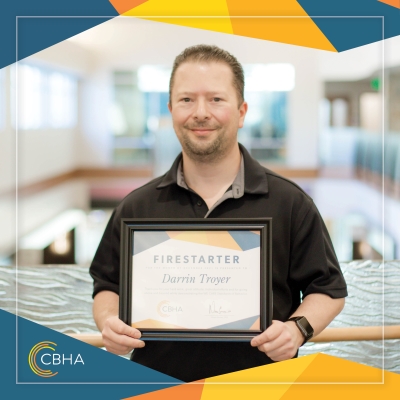 Join us in congratulating Darrin Troyer on his Firestarter Award!
Darrin is an IT Support Services Team Lead at our Othello Clinic. He is consistently working with his team to accomplish a common goal of resolving technical issues and introducing new technology for CBHA. He puts in extra effort to meet with employees when they are having technical issues rather than trying to troubleshoot over the phone.
Darrin is always serving. He treats each employee like a customer, ensuring that they receive the best care and service possible. He is also very passionate about his job and it shows while helping others.
We are so happy to have Darrin on our team!
Get to know Darrin:
When did you start at CBHA?
I started at CBHA on March 16, 2015.
What is your title and job duties?
I am an IT Support Services Team Lead. I manage the Support Services Team that resolves technical issues and introduces new technology to CBHA.
What do you like best about working for CBHA?
I like the people that work here. Everyone has a positive attitude during the most stressful times and it's always a pleasure talking to them and resolving their computer issues.

How has CBHA helped you in your career development?
I have learned so much from my department coworkers. They love to share their knowledge and experiences.
I have also attained two IT related certifications with the assistance of the ED Bucks program that is offered to employees and currently working on additional certifications.

What has been your favorite project at work so far?
My favorite project so far has been the Connell Clinic expansion project. It was great to see everyone excited about getting new computers and equipment. It was also fun to see that the Connell Clinic finally has a dedicated Conference Room. I think that was a huge morale booster.
What motivates you to wake up and go to work?
It's very motivating knowing that every day has a new challenge that we can overcome and you never know what to expect.

Tell us something about yourself that would surprise us.
I have two brothers and at one time, we were all serving active duty in the US Navy during the same time period. I also have a Hot Wheels collection since I can't afford the real ones.

What would you do (for a career) if you weren't doing this?
I would be a Forest Ranger or Campground Host.
Favorite travel spot?
My favorite place to travel would have to be somewhere in Montana. The exact location is a secret, that way it will stay secluded.
When you have 30 minutes of free-time outside of work, how do you pass the time?
I binge watch Netflix or read.
Anyone you would like to thank or final words?
This award caught me totally by surprise! I would like to thank Alex Bountharath, Amanda Stucky, and everyone who voted for me. Words cannot be expressed on how much I appreciate being awarded, it means a lot to me. Thank you everyone.