When should you visit your Optometrist vs Primary Care Provider?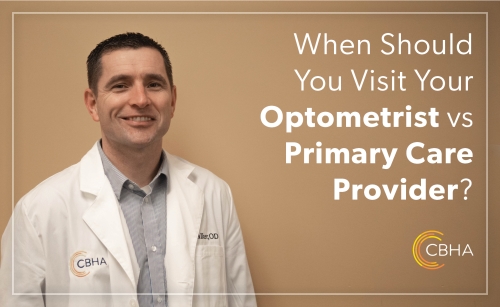 Many people aren't sure when they should visit their primary care provider, eye doctor or go to the emergency room. The majority of the time, if your problem or pain is eye-related, then you should contact your eye doctor first. For any other problem, you should see your primary care provider.
Some of the problems our optometrist can help you with are red or sore eyes, eye allergies, an injury to your eye and seeing flashes or floaters and more.
How we can help you
Optometrists are usually the doctors responsible for performing comprehensive eye exams, which checks your vision quality and can diagnose eye diseases.
"We can look for the source of your eye problem and recommend or prescribe different solutions to help you see better or help your eyes feel more comfortable," says Dr. Bleazard.
"Different problems need different treatments, like if you have dry eyes, we can recommend eye drops, punctual plugs, or heating solutions," says Dr. Bleazard.
If you struggle with blurriness, our optometrist can prescribe glasses or contact lenses to correct your vision, or we could examine your eyes to find the source of your blurriness.
If you have an eye disease, like glaucoma, our optometrists can help manage it to prevent harm to your vision. "Scheduling regular comprehensive exams is key to staying ahead of any eye disease," says Dr. Walker.
Our Eye Care Services
Our optometrist provide a variety of services for our patients including:
Comprehensive eye exams
Prescription lenses and contacts
Prescription sunglasses
Foreign object removal
Treatment of eye injuries, eye infections, allergies, and irritations
Eye disease management
Pre- and post-surgical eye care
Retinal photography and special retina testing
Corneal topography
See what services are offered via TELEHEALTH
School Screenings
It is important to see us on a regular basis to ensure that your vision stays healthy. Schedule your exam with one of our optometrist at any of our clinic locations today. Call/text 509-488-5256 to make an appointment.
visionsource-mtviewvision.com/2014/06/26/should-i-see-my-primary-care-vs-eye-doctor/
https://opmt.com/which-healthcare-provider-do-i-see-when-i-have-an-eye-problem/