Firestarter Spotlight - Lizet Ramos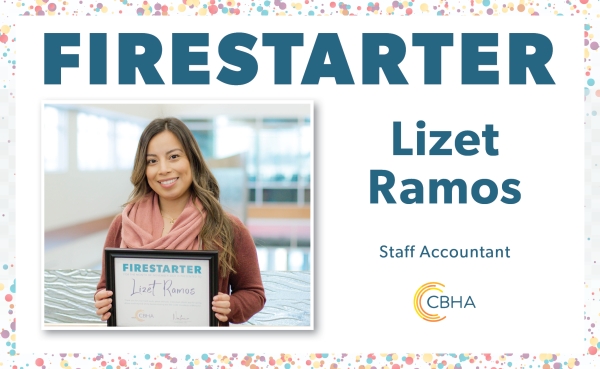 Join us in congratulating our Firestarter, Lizet Ramos!
Lizet is a Staff Accountant at our Othello Clinic. She takes pride in her job and strives to complete her work with a high level of accuracy. Lizet has done an excellent job in her new role, payroll processing, over the past year and has worked diligently to learn a lot of new information in a short amount of time.
Her job requires her to be very flexible in her schedule in order to meet payroll and banking duties. This can mean early mornings, late nights, weekends and sometimes even holidays spent in the office.
Lizet's work does not go unnoticed and we are so happy to have her as part of our CBHA family!
Get to know more about Lizet:
When did you start at CBHA?
I started working at CBHA in September of 2013.
What is your title and job duties?
I'm a Staff Accountant. Some of my responsibilities include processing payroll – ensuring timesheets are completed/processing and coding correctly, verifying earnings/deductions, reconciling our payroll bank account, and other Month-End/Year-End tasks.
What do you like best about working for CBHA?
The positive work environment, flexibility, and employee perks J
How has CBHA helped you in your career development?
I've been able to take trainings through resources available. I recently joined the American Payroll Association which offers payroll courses and trainings. Looking forward to taking more courses to obtain my certification.
What has been your favorite project at work so far?
My favorite project was assisting with the furniture reallocation for the new Othello Clinic. I was able to work with the interior designer on this project and assign existing and new furniture to its new location in the building. It was exciting to see what it was going to look like before we actually stepped foot inside.
What motivates you to wake up and go to work?
Knowing that I am part of an organization that truly cares about their patients, employees, and community.
Tell us something about yourself that would surprise us.
I've avoided dairy for some years now so when I actually have milk chocolate candies, I can taste the "milk" (I prefer dark chocolate!)
What would you do (for a career) if you weren't doing this?
If I wasn't here, I would probably be a detective.
Favorite travel spot?
My family vacation spot is North Shore, Oahu.
When you have 30 minutes of free-time outside of work, how do you pass the time?
I love to spend quality time with my family.
Anyone you would like to thank or final words?
I'd like to thank the person who nominated me for the recognition and kind words. Also, I would like to thank my supervisors for believing in my abilities and encouraging me to take on new roles.