Welcome Stacey Forbes, Speech Language Pathologist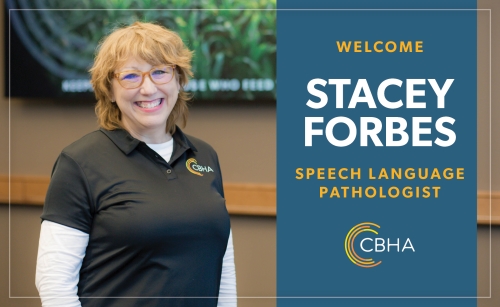 We want to welcome our first Speech Language Pathologist, Stacey Forbes! Stacey is from a small town like Othello called Kingsport, Tennessee. After getting married, she moved to Texas and pursued her career as a Speech Pathologist.
Stacey has a Psychology degree, along with her Master's in Speech Language Pathology from the University of North Texas.
"When I was working with a group of pediatricians, one of them referred to a speech therapists for help and I really liked the skills she used with the child, it was more one on one. That really pushed me to move into speech therapy," says Stacey.
Stacey really enjoys how close everyone and everything is in Othello. "CBHA really impressed me with the commitment that they have to their community, and being in a small town, it's easier to build relationships and work with all kinds of patients," says Stacey.
Her goals as a Speech Language Pathologists are to become an integral part of the CBHA community and provide education on speech and feeding therapy. "I know it's important to develop relationships with family and patients, so I make sure that children and adults feel that they are in a safe and calm space where they can learn while having fun. Speech therapy is always fun!"
When Stacey has some free time, she "enjoys baking, gardening, walking her dogs, hiking and traveling." She has already traveled to 15 different countries! WOW!
"I am happy to be here and I am looking forward to getting to know more people and getting involved in the community."
Talk to your provider and see if speech therapy is right for you!