Firestarter Spotlight - Daysi Mendez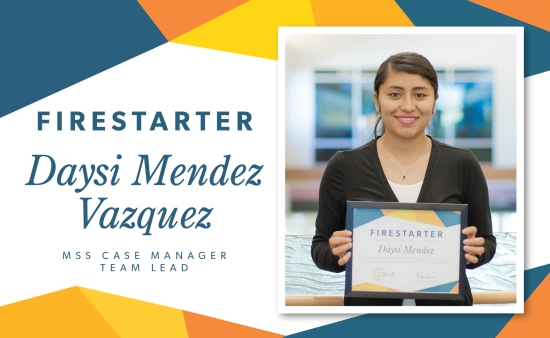 Join us in congratulating Daysi Mendez on her Firestarter Award!
Daysi exemplifies top box performance when it comes to customer service and caring for the pregnant mothers in her case load. She goes out of her way to find the most appropriate resources, provide consistent contact and education, and build trust so that clients are comfortable reaching out to her. Her patients remember her fondly for years due to the relationships she builds.
In 2021, she became a team lead for the Maternity Support Services team and handles the bulk of training for new case managers, as well as leading by example in her own client interactions and documentation. In all of her "spare time" she also took on project lead for the 2021 CBHA Thanksgiving Basket program and she did an amazing job, surpassing all prior years for the total number of baskets provided.
She is a consistent and reliable employee, and a wonderful ambassador for CBHA and for all of Family Services - we are so grateful to have her on our team!
When did you start at CBHA?
I started working at CBHA on May 8, 2017.
What is your title and job duties?
I am a MSS (Maternity Service Support) Case Manager Team Lead. As a case manager my role consists of providing prenatal education and screening for high risk factors (i.e. substance abuse, domestic violence, family basic needs and mental health concerns). I also facilitate appointments with medical, eye care, dental, specialist appointments, transportation coordination, assist completing DSHS forms or referrals to other resources in the community based on our patient's needs. I also provide training to new case managers and MSS Behavioral Health specialists. I'm in charge of doing internal MSS audits to make sure we are in compliance with the state program requirements.
What do you like best about working for CBHA?
I love the relationships I create with my patients and the support I get from my managers. My team's energy and commitment to help our patients makes me very happyJ.
I also love the fact that I live 2 minutes away from work. I appreciate all the benefits, surprise gifts CBHA offers, especially the trainings that help better my career.
How has CBHA helped you in your career development?
CBHA gave me the opportunity to work here right after I graduated from CWU with my Social Work degree. They also gave me the opportunity to become a Child Passenger Safety technician, develop my leadership skills as the MSS Lead and I am one step away to become a Certified Childbirth Educator.
What has been your favorite project at work so far?
I have two favorite projects:
My first project was coordinating the annual Thanksgiving Food Basket Drive. It was very scary for me to take the lead on such important event. To be honest I went home and cried the day I was told I was in charge because I had no experience coordinating events, but Leo Gaeta believed in me and pushed me to do it. I thank him for that because I learned a lot from coordinating such a rewarding event.
My second favorite project is training new employees. I find it to be challenging but it gives me the opportunity to share everything I have learned with them and make sure that they will have the same passion and dedication when it comes to providing services for our patients.
What motivates you to wake up and go to work?
My daughter Ximena and my future goals are my main motivation to wake up and go to work with the best attitude possible. Also, I find a lot of fulfillment knowing that what I do in my job has an impact on the lives and overall wellbeing of my patients.
Tell us something about yourself that would surprise us.
I came to the USA when I was 15 years old, my goal was to finish High School and College and go back to Mexico but I ended up staying!
I don't like watching TV! I think it's boring.
What would you do (for a career) if you weren't doing this?
My dream when I was little was to be a Civil Engineer.
Favorite travel spot?
Mexico will always be my favorite place to travel. Maybe because I never travel to other countries.
When you have 30 minutes of free-time outside of work, how do you pass the time?
I love to spend my free time with my beautiful daughter and husband, but I also like to listen to audio books and TED-Talks. My favorite audiobook at the moment is The Alchemist by Paulo Coelho.
Anyone you would like to thank or final words?
I would like to thank Leo Gaeta and Marisol Quezada who gave me opportunity to start my job as a Case Manager and team lead. Also, thank you Martha Mabry and Shannon Walker my current leaders for all their support and trust in my current position and of course to the Family Services team for all their support.