Firestarter Spotlight - Maribel Anguiano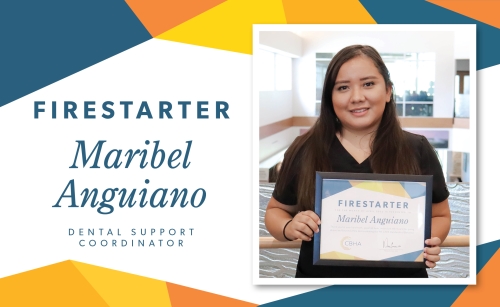 Join us in congratulating Maribel Anguiano on her Firestarter Award!
Maribel is a Dental Support Coordinator at our Connell Clinic. In this position she is a role model for our Dental Assistants. She is attentive to their needs and quick to resolve any issues. Maribel does a great job of making sure that her team has the best equipment and supplies to offer the highest quality care for our patients.
When you walk into our Connell dental department, it shoiws how much our Dental Assistants love having her as their coordinator. She shows up to work prepared, informed, and ready to address any of their concerns. She has come a long way since she first started at CBHA, making her a respected and trustworthy individual.
We are so happy to have her on our team making sure out patients have the best experience when they come in for their visit. Congratulations Maribel!
Get to know Maribel:
When did you start at CBHA?
I started working at CBHA in January of 2017.
What is your title and job duties?
I am the Dental Support Coordinator at our Connell Clinic. I ensure that dental is operating with appropriate equipment and supplies. I provide support for our dental providers and assistants. I also help with the day-to-day management of our dental department.
What do you like best about working for CBHA?
I love the communities that we serve. Many patients that we see, would not be able to afford dental care. The assistance programs that CBHA offers breaks down that barrier and allows them to seek the necessary dental care they need with us. I've seen patients come through our doors who have never been to a dental office. I enjoy educating them and teaching them about the importance of their oral health. Knowing that I can help them, in any way, is truly rewarding.
How has CBHA helped you in your career development?
When I started working at CBHA, I had no hands-on experience. CBHA has allowed me to learn and succeed as a Dental Assistant. I am now a Certified Dental Assistant, which I was able to pay for with the Ed Bucks program that CBHA offers to its employees. I was able to train in the specialties that our clinic offers – pediatric dentistry, orthodontic dentistry, and oral surgery. I was later promoted to a Dental Support Coordinator and this has allowed me to develop and grow my leadership skills.
What has been your favorite project at work so far?
Dental shout outs! It has been a pleasure to have this mini project going on our department. This is where our staff can recognize each other for their teamwork and hard work.
What motivates you to wake up and go to work?
My motivation comes from my parents. Growing up they didn't have much, so dental care was seen as an option or a luxury. I come to work to be able to serve the underserved.
Tell us something about yourself that would surprise us.
I enjoy art history. I want to travel abroad to see the artwork created by famous artists like Raphael, Michelangelo, Jan van Eyck, and Pablo Picasso.
What would you do (for a career) if you weren't doing this?
If I wasn't doing this, I could see myself pursuing a career in law.
Favorite travel spot?
I don't think I have a favorite travel spot. I love to travel so any new place to explore is great for me!
When you have 30 minutes of free-time outside of work, how do you pass the time?
Free-time outside of work, I spend with my family. Now that the weather is improving, we spend a lot of our extra time at the skate park together.
Anyone you would like to thank or final words?
I would like to say thank you to my Connell crew! I wouldn't be able to do everything that I do without them. When I was gone on PFML, they held down the fort until I returned. They are so hardworking and their positive attitude spreads throughout the clinic! You all are amazing!
Thank you CBHA for giving me the opportunity to grow and develop, when I started I had no real work experience. CBHA gave me that and more!