Third Year in a Row - CBHA is nationally recognized as Best Places to Work in Healthcare!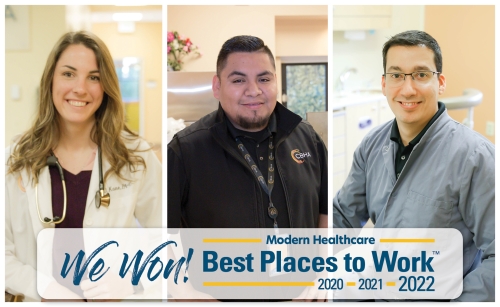 CBHA is honored to be selected by Modern Healthcare Magazine as one of the Best Places to Work in Healthcare. It's exciting to have won this award for a THIRD YEAR in a row!
"At CBHA we recognize that culture beats strategy! It is because of our intentional investment in our people that we can demand excellence and accountability from all of us to provide an award winning culture for our workforce, the highest quality of care results in the country for our patients and a unique and satisfying patient experience and engagement for all of the communities we serve. Thank you Modern Health Care for recognizing and rewarding the CBHA experience," says CEO, Nieves Gomez.
Modern Healthcare Best Places to Work nationally recognizes the top 150 companies and organizations in healthcare who do amazing work for their employees. We're proud to be part of this amazing group. Our priority is to be the best place for employees to work, patients to receive care and providers to practice healthcare.
"Our employees are awesome! It is such an honor to work aside them each and every day. To be awarded this recognition three years in a row is a true testament to the work that CBHA does for our employees and how important they are to ensuring that our patients receive the best quality care," Kelly Carlson, Chief Administrative Officer.
Thank you Modern Healthcare for recognizing us again! And THANK YOU to our amazing employees for always providing our patients with the best care and services. This award is for you. Congratulations!