Firestarter Spotlight - Modesta Vivar Ponce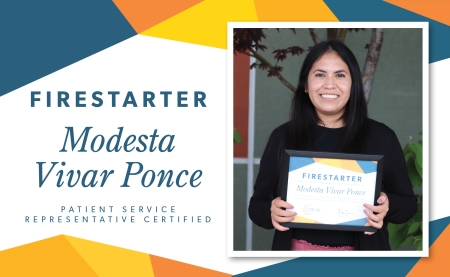 Join us in congratulating Modesta Vivar Ponce on her Firestarter Award!
Modesta is a Patient Service Representative at our Wahluke Clinic. She is a dependable, loyal and honest employee. She works very hard and demonstrates initiative, intelligence and creativity in her work.
Modesta likes to take on challenges that contribute to the success of our patient flow and helping others solve problems. Her excellent communication skills and positive outlook enhances her qualities to being a great role model for other PSR's.
She is always willing to help in any department she can and cover for other staff when they are out. Modesta always comes to work with her bright smile and positive encouragement. We are so happy to have her on our team!
Learn more about Modesta:
When did you start at CBHA?
I started at CBHA on January 1st, 2014
What is your title and job duties?
I'm a Patient Service Representative - Certified. I schedule appointments, pre-register patients, answer phone calls, train new hires, and help out in different departments like medical, dental, eye care, patient benefits and contact center as needed.
What do you like best about working for CBHA?
I like the multicultural and diverse environment that CBHA provides. I also enjoy helping patients receive access to quality healthcare.
How has CBHA helped you in your career development?
CBHA has helped me further my career by obtaining my CRCR certificate via HFMA. CBHA allows me to continue learning new leadership skills and knowledge towards my career advancement.
What has been your favorite project at work so far?
There are several projects I've been a part of including our screenings booths, COVID-19 vaccine clinic, and food drive events.
What motivates you to wake up and go to work?
Being an active member of my community helps me better myself and motivates me to come into work.
Tell us something about yourself that would surprise us.
I've always wanted to be an FBI agent. That's why I pursued a degree in Law and Justice.
What would you do (for a career) if you weren't doing this?
If I weren't doing this I would probably be working in the field of either Law and Justice or Psychology.
Favorite travel spot?
I love to visit the city that never sleeps, New York.
When you have 30 minutes of free-time outside of work, how do you pass the time?
I like to spend quality time with my friends and family, including my pet Gordo.
Anyone you would like to thank or final words?
I want to thank Gilbert for being an awesome coworker. I would also like to thank my family for being supportive and to everyone that makes this place a great place to work at.