Firestarter Spotlight - Keila Rodriguez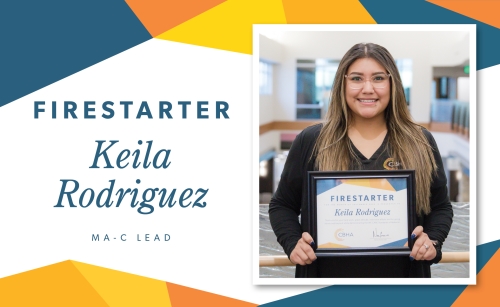 Join us in congratulating Keila Rodriguez on her Firestarter Award!
Keila maintains a positive and friendly attitude during work and around her patients. She always looks out for her coworkers when they need help.
Keila also does her best to communicate and is super helpful when it comes to asking questions about job-related duties.
We're so glad to have her on our team and can't wait to see the amazing work she'll continue to do.
Get to know Keila:
When did you start at CBHA?
I started on July 29th, 2019

What is your title and job duties?
I am a Medical Assistant Certified (MA-C) Lead. I take patients to the exam room and take their vital signs and vaccines. I also help my provider with paperwork that patients may need to receive referral services outside of CBHA. I work alongside 3 other MA-C Leads and the Clinic Managers. We work together and ensure our team has the supplies and resources needed to provide quality care for our patients.

What do you like best about working at CBHA?
I like the bond that I am able to create with my patients. I am able to make an impact in the community by providing quality care for patients. CBHA gives their employees the freedom to grow, and even change job positions within the organization if the opportunity arises to better one's careers.

How has CBHA helped you in your career development?
CBHA allowed me to do my externship in the clinic while I was a student finishing my MA-C program, which gave me more hands-on experience before starting my career. Now being here for 3 years I have been able to broaden my knowledge in the medical field, and hope to continue growing.

What has been your favorite project at work so far?
Community garden cleaning was by far my favorite project, I got to spend the day helping my community with my coworkers and family.

What motivates you to wake up and go to work?
My family is my motivation. They have always been my biggest supporters. As I continue to work in a field that I enjoy, I hope to make an impact on my son and younger siblings to follow their hearts and passions.

Tell us something about yourself that would surprise us.
I love baking and doing nails. I usually bake cakes and baked goods for family events as well as practice doing nails on family and friends.

What would you do (for a career) if you weren't doing this?
If I wasn't doing this, I would complete a course to becoming a nail esthetician.

When you have 30 minutes of free-time outside of work, how do you pass the time?
I like spending my free time with the people I love. My son is very energetic so we can usually be found outside playing, in attempt to get him tired but I always end up getting tired before him.

Anyone you would like to thank or final words?
I would like to thank the person that nominated me for Firestarter. I appreciate the recognition. I love my job and I'll continue to provide my community and coworkers with the best skills that I can offer.