Firestarter Spotlight - Aliyah Valdez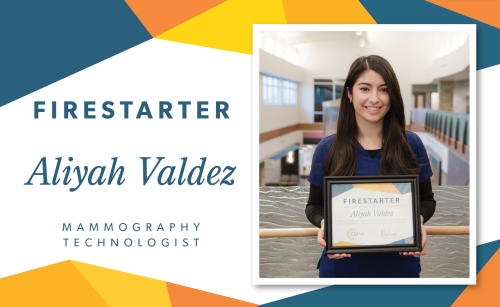 Join us in congratulating Aliyah Valdez on her Firestarter Award!
Aliyah is our Mammography Technologist at our Othello Clinic. She started out at our Connell Clinic as a Radiology Tech, performing x-rays and doing blood work for our patients.
She is a wonderful example of an ideal employee and is always efficient in her work and friendly with her coworkers. Aliyah has done a wonderful job in transitioning from her role in Connell to her new role as a Mammo Tech. She has completed all her studies and tests to provide the best care for our patients.
We are so happy to have her on our team and excited to see what she will do next in her career!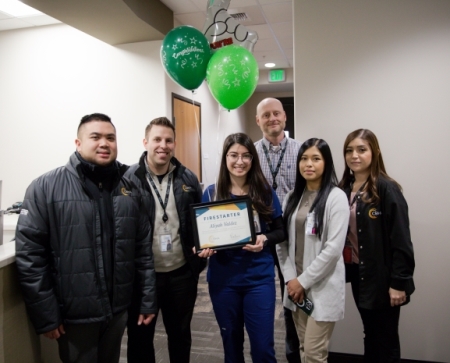 Get to know Aliyah:
When did you start at CBHA?
I started at CBHA in January 2020.
What is your title and job duties?
I am a Mammography Technologist. I perform mammography exams here in Othello, along with X-rays, bone density scans, and phlebotomy.
What do you like best about working for CBHA?
My favorite part of my job is having conversations with our patients, learning more about them, and hopefully brightening their day a little.
How has CBHA helped you in your career development?
CBHA has had a significant role in my career development. When I started in 2020, I was only a year out of x-ray school. CBHA helped me get my MA-P (Medical Assistant – Phlebotomy) license and bone densitometry certification and allowed me to study and train in mammography.
What has been your favorite project at work so far?
My favorite project has been helping launch mammography services at our Othello Clinic. It has been a lot of work, but it has already made such a big impact on our community, making yearly mammograms more accessible and bettering women's health.
What motivates you to wake up and go to work?
The fact that I can impact someone's life for the better. Getting your yearly mammogram can lead to the early detection of breast cancer and can mean faster treatment and recovery.
Tell us something about yourself that would surprise us.
I've known I wanted to be a radiology tech since high school; I was even the youngest to be accepted into my x-ray program at Wenatchee Valley College at 17. I was still finishing my last few months of high school and running start while in my first quarter of the radiology program.
What would you do (for a career) if you weren't doing this?
I would love to open my own café and bakery. I am a big coffee lover.
Favorite travel spot?
Puerto Vallarta has been my favorite travel spot, but really anywhere with warm weather and good food!
When you have 30 minutes of free-time outside of work, how do you pass the time?
I love spending time playing with my puppy Griff or baking cookies.
Anyone you would like to thank or final words?
I want to thank God because He's been with me through it all. I also want to thank Cynthia Colclasure for nominating me for this award, my husband and family for always supporting my career, and all of my co-workers for being great to work with.