Get to Know Dr. Alex Snyder, DMD
Getting your kids to see the dentist can be challenging, but Dr. Snyder always makes sure that it will be a fun and painless experience.
Dr. Alex Snyder, DMD, is a Pediatric Dentist at our Othello and Wahluke Clinics.
He grew up in St. George, Utah. When he was younger, he enjoyed being outdoors. "I love to be out in nature mountain biking, rock climbing, and snowboarding." On his time off, he enjoys watching sunrises. He says it's "peaceful and calming to see over vast stretches of farmland."
Dr. Snyder received his Dental Degree from Nova Southeastern University in Fort Lauderdale, FL, and completed his residency at Yakima Valley Farm Workers Clinic in Yakima.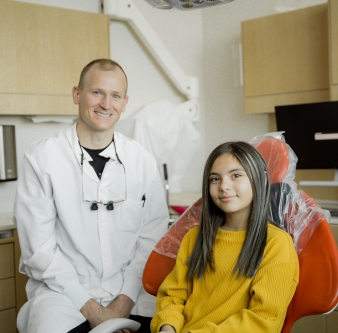 He has been with CBHA for over a year and has loved serving our community kids. It's important to him to offer the very best possible care to his patients.
"My little patients, and their parents, are my favorite to care for. I'm often impressed by how quickly they develop coping skills to tolerate treatments, and their parents are always so nice and show so much appreciation."
Dr. Snyder has learned a little about our Hispanic population – the hard work they do and how they care for their children's health. "I have great respect for the Hispanic agriculture industry workers. They are the foundational patient population at CBHA, and their work is vitally important to us all. It's significant to me to care for their children and grandchildren."
Dr. Snyder has worked hard to learn Spanish and is able to speak it fluently with his Spanish-speaking patients.
Your child's first dental appointment should be when they turn one year old. After that, they should visit their dentist every six months.
Schedule your kid's next dental appointment with Dr. Snyder at our Othello or Wahluke Clinic below!