Firestarter Spotlight - Marcela Arrieta
Join us in congratulating Marcela Arrieta on her Firestarter Award!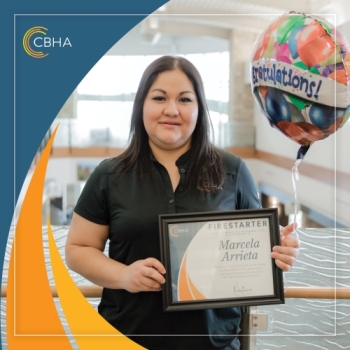 Marcela is a well-respected certified Dental Assistant. She delivers excellent care to our patients and goes above and beyond so that they feel comfortable during their appointment and leave satisfied with their care.
She's never shy to ask if she can learn new techniques and skills in her position, and leads by example. Whenever our department gets new equipment, Marcela takes it upon herself to be the first one to be trained, so she can help teach others how to better serve our patients.
We're so happy to have Marcela on our dental team providing the best care for our communities. Congratulations Marcela!
GET TO KNOW MARCELA:
When did you start at CBHA?
I started working at CBHA in June 2015.
What is your job title and day-to-day responsibilities?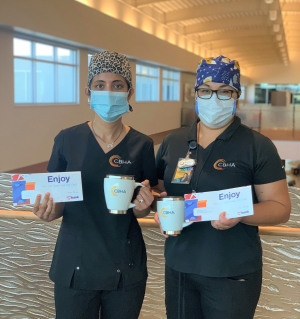 I am a Dental Assistant Level III certified. My role is to assist Dentists in all dental procedures like general dentistry, implants, orthodontics, and pediatrics. I also get to train new hires.
What is your favorite thing about working at CBHA?
My favorite part of working for CBHA is meeting different people every day and giving them the best quality of care. CBHA is a great place to work. They take great care of their patients and employees and are always striving for the best.
How has CBHA helped you grow in your career?
I transferred from a Medical Assistant to a Dental Assistant knowing nothing about teeth. I was able to go through their hands-on training and continued to move up, learning new skills and specialties. CBHA staff is supportive and encouraged me to become a certified assistant through the Dental Assistant National Board.
What has been your favorite project at work so far?
My favorite project was getting trained on our new CAD/CAM service. I can assist our dentists and create crowns right here in our clinics, along with training other dental assistants on this new service so that we have a full team who is able to provide the best care to our community.
If you could have one superpower, what would it be?
My superpower would be to fly like an eagle.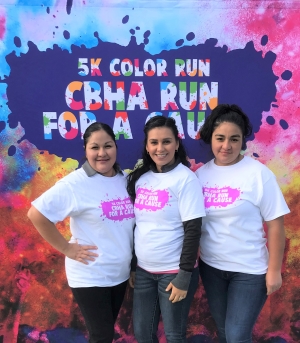 How do you turn a bad day into a good one?
With a positive attitude and a smile!
What did you dream of becoming when you were a kid?
I wanted to be a teacher, but once I came into healthcare I loved it.
Where is your favorite place to travel?
I enjoy taking family trips in the summer to Silverwood.
If you could be any Disney Character which one would you be?
I would be Princess Merida from the movie Brave.
Anyone you would like to thank or final words?
I would like to thank God, my family for always supporting me, my friend & co-worker Ruby for always encouraging me to learn. Dr. Choi and Dr. Cheek for always teaching me. Carlos, Tracie, Yasmin, Rosalia A. for being great leaders, my co-workers, and to the person that nominated me.