Firestarter Spotlight - Oscar Policarpio Lopez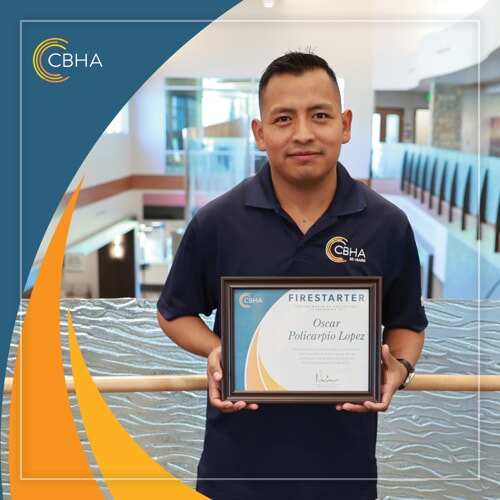 Join us in congratulating Oscar Policarpio Lopez on his Firestarter award!
Oscar is a Medical Assistant at our Othello Clinic. He is a highly-skilled, extremely knowledgeable, compassionate team player who consistently displays and effectively demonstrates the true meaning of our W.E. C.A.R.E standards of behavior.
He is consistently helping others, making time to translate, and helping the receptionists with any questions they may have. Oscar always shows up to work with a contagious positive attitude. His willingness to provide patient access is like none other.
We're delighted to have him on our team and serving our patients!
Congratulations Oscar!
Learn more about Oscar:
When did you start at CBHA?
February 2, 2021.
What is your job title and day-to-day responsibilities?
My job title is a Medical Assistant. Some of my day-to-day responsibilities are measuring patients' vital signs, giving patients injections, and helping providers with procedures.
What is your favorite thing about working at CBHA?
One of my favorite things about working at CBHA is working with the people in this community. I love the environment here at CBHA and the patient care.
How has CBHA helped you grow in your career?
CBHA has helped me improve my skills and I would like to continue growing with the company.
What has been your favorite project at work so far?
One of my favorite things I have done here at CBHA is all the cool procedures I have been able to assist providers with.
If you could have one superpower, what would it be?
If I could have one superpower I would want to be able to heal people.
How do you turn a bad day into a good one?
I turn bad days into good ones by staying positive and surrounding myself with my coworkers.
What did you dream of becoming when you were a kid?
I have always enjoyed working on cars, it's one of my hobbies outside of work.
Where is your favorite place to travel?
Mexico is far by the best place to travel for me.
If you could be any Disney Character which one would you be?
If I could be a Disney character I would choose Nemo. He learns to overcome his fears.
Anyone you would like to thank or final words?
I would like to thank all my coworkers for being such a great team.