Welcome Dr. Traficante, DDS!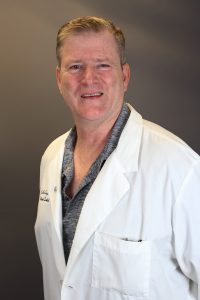 Dr. Traficante calls San Antonio home although he was born in Chicago and lived in Germany for a short time. "My dad was military and when he was stationed in Texas our family stayed there while Dad traveled around the world fulfilling his military duties," he said. "He retired after 40 years of service; my mother is retired military as well. They actually met in the Korean War. Dad had been wounded and she was his nurse." - VIEW DR. TRAFICANTE'S WELCOME VIDEO
Dr. Traficante served as a U.S. Navy Dental Corp Officer from 1980 until 2007 when he retired from military service. He provided pediatric dental services in worldwide locations during that time. After serving several years as Program Director of Loma Linda's School of Dentistry in California, and private practice in Washington State for eight years, it was time for a change. "I wanted to slow down just a little and relocate to a smaller city," he said. He was deciding between the University of Florida and CBHA. "It was definitely the people I met when I visited CBHA for a site visit that made me want to settle in Othello."
He is excited to begin his practice here. "I have always enjoyed taking care of children and look forward to becoming acquainted with my new patients." Dr. Traficante and his wife have two grown daughters. "Our oldest daughter is currently doing an internship in London with 'Football (soccer) Without Borders'. The younger one is a flight attendant for Alaska Airlines," he said. "Her home base will be in Seattle so we will be able to see her quite often." In his off work time, Dr. Traficante enjoys sports. "I follow my favorite football team which is the University of Texas Longhorns," he said. He also likes soccer – favorite teams include Manchester United and Athletico. He enjoys hiking and cooking and also reads a lot. "I like reading a real book – not one on a computer or electronic reader!" he concluded.