Brighten Your Smile
Ask any doctor or dentist and they'll tell you: a person's overall health and wellness is closely connected to their oral health. Poor care of your teeth and gums can result in gum disease, which can be a contributing factor to other health issues including heart disease, diabetes, respiratory disease, osteoporosis, and rheumatoid arthritis.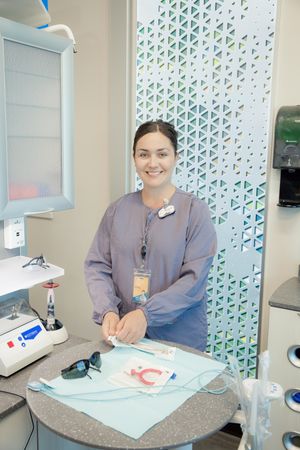 THE MOUTH: A WINDOW TO HEALTH
It's been said that the eyes are the window to the soul. Likewise, recent research shows that the mouth may just be the window to the body. Why?
The mouth is basically the entryway to the rest of the body. Beyond the foods and beverages, we consume, there are millions of microscopic bacteria that enter our mouths every day. Overtime, these bacteria can build up to become plaque, which leads to cavies. Without regular brushing and flossing, these bacteria can also cause soreness of the mouth and gums.
Ongoing inflammation in the mouth can allow bacteria to enter the bloodstream, which can lead to additional inflammation in other parts of the body, like the heart.
According to one study at the University of North Carolina School of Dentistry, patients with gum disease were more than twice as likely as others to die from a heart attack and were three times as likely to have a stroke.
GETTING AND KEEPING YOUR DENTAL CARE ON THE RIGHT PAGE
Fortunately for patients in the Columbia Basin, maintaining good oral health has never been easier, more convenient, or more accessible.
With the most advanced equipment and technology, the dental team at CBHA can perform procedures ranging from routine exams and fillings to dental surgery and same-day crowns with our new Cerec machine.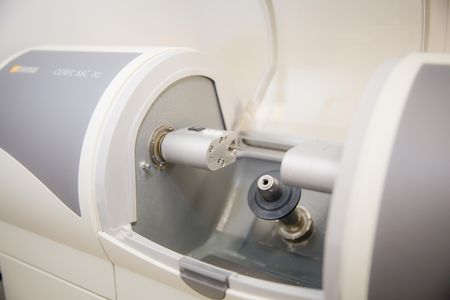 Dr. Heider Kalhan says, "So far since I've been here, I have not come across a dental problem we can't treat. We can do just about everything!" Dr. Kalhan joined the CBHA family of dental care providers earlier this spring.
The CBHA dental care team does "just about everything" in a state-of-the-art facility many providers can only imagine.
"I've been practicing dentistry since 1997, and CBHA has the best materials and the most top-notch facility I've ever seen," says Dr. Kalhan. "It's easily the best place I've ever practiced dentistry. Patient care is outstanding; quality of care is great. The equipment is top-of-the-line."
When you have pain in your mouth or can't eat, it can't wait. You need to be seen. As a dentist, orthodontist, and oral surgeon, Dr. Kalhan isn't intimidated by emergencies or the need for same-day care.
"We never turn away patients. Same-day appointments for emergencies are always accommodated. It's easier than ever to get them in, too, because we have more chairs to serve more patients. We also have a full staff of dentists, hygienists, and orthodontists."
EFFICIENT AND HIGH-TECH SERVICE
CBHA continues to invest in equipment, staff, and process to deliver better care. With recent changes in equipment and workflow, Dr. Kalhan shared that he can now see up to 50% more patients in a day, which means more time for preventative checkups and helping patients address dental health concerns.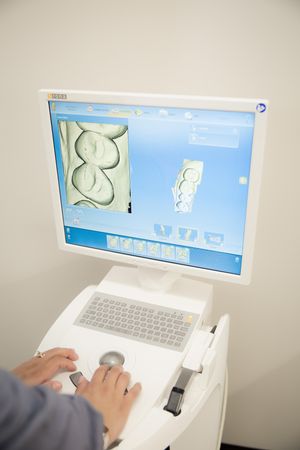 Sometimes patient have cavities that are too large or threaten the health of the tooth. In these cases, a crown is needed to protect the tooth. New technology at CBHA now makes it possible to measure, map, and create these needed crowns onsite, without traditional delays associated with ordering these from outside services.
"The crowns we are able to produce are made with the highest quality material. No metal or anything. It's done by a 3-D computer model (called a Cerec machine) after an image is taken. The software transfers the data to the milling machine and the crown is ready to place in about ten minutes," Dr. Kalhan says. "It's like a robot! Very useful equipment!"
HEALTHIER, STRAIGHTER SMILES
In addition to traditional dentistry, the dental team at CBHA provides orthodontic treatment for patients whose teeth or bite require correction. While many people get braces for cosmetic reasons, like straighter teeth and an improved smile, orthodontic treatment is recommended for oral health when a patient's teeth are crowded, or if an underbite, overbite or incorrect jaw position is present. When these problems are left untreated, tooth decay, gum disease, earaches, and headaches often result. Speaking, biting, and difficulty chewing can also develop when overcrowding, bite misalignment, and jaw issues are not corrected.
CBHA has made investments in modern technologies and treatments to reduce the time that patients needing orthodontia must wear braces.
"We use the latest technology available with orthodontia as well," Dr. Kalhan reports. "We can reduce the length of time for treatment, too, by using self-ligated brackets for the braces. Just the wire and the elastic. This technique is available. One day we'd also like to add Invisalign to our services for orthodontia, but for now, we have excellent orthodontia treatment."
While the ideal time for placement of braces is between the ages of 10 and 14, because the head and mouth are still growing, and teeth are more amenable to straightening, patients with orthodontic problems can benefit from braces at any age. In fact, more adults than ever before are getting braces to correct bite issues and straighten teeth.
PEDIATRIC DENTISTRY
While all CBHA dentists are capable of providing exceptional care to our youngest patients, we are pleased to have Dr. Loveridge and Dr. Traficante on staff, pediatric dentists who specialize in working with small teeth and making children comfortable.
Both of CBHA's pediatric dentists enjoy treating children and helping them get started with the excellent oral care that will last them a lifetime. They take the worry out of going to the dentist.
ENDONTICS
For patients whose smiles may require repair of a chipped tooth or endodontic treatment, CBHA is prepared to handle these conditions as well. Endodontic treatment includes root canals and other procedures in which the soft tissue of the tooth is involved.
PREVENTATIVE CARE
In addition to regular exams and cleanings at least twice a year, adults and children alike can benefit from fluoride treatments. Fluoride is a mineral found in some foods and water that helps protect teeth from tooth decay. Available in mouth washes and toothpaste as well, fluoride in more concentrated applications is helpful for additional protection.
It is especially important for infants and children between the ages of six months and 16 years to be exposed to fluoride, as it provides protection from plaque and bacteria while also strengthening developing teeth.
Sealants are another preventive measure that protect growing teeth and can be applied at CBHA. Sealants are a thin plastic coating a dentist paints on premolars or molars. This coating bonds into the grooves of the teeth and forms a protective barrier over the enamel of the tooth.
According to the American Dental Association, sealants can prevent up to 70 percent of cavities that occur in childhood.
BETTER OVERALL HEALTH
When it comes to your teeth and oral health, there's no substitute for daily brushing and flossing, and twice-yearly trips to the dentist. And, it turns out, keeping your mouth as healthy as can be is one of the best things you can do for your body as a whole.
"I have not come across a dental problem we can't treat. We can do just about everything."
If you have not seen your dentist in six months or more, call CBHA at 509.488.5256.