Welcome Jesstine Kane, PA-C
Jesstine Kane enjoyed the six week clinical experience she completed at CBHA at the beginning of her PA training.
"I was able to work at both the Othello and Connell CBHA clinics. I love CBHA and all that they do," she said. "I was really impressed that they have these state-of-the art facilities. I previously worked in the Tri-Cities for 18 months and gained a lot of patient experience in a large hospital. The charm of this area grows on you after a while."
Jesstine said she is happy to have returned to CBHA and care for people in a clinic setting. "I want to help people achieve their best healthy life on a daily basis. CBHA really is an amazing facility – the likes of which one might expect in Seattle or Portland."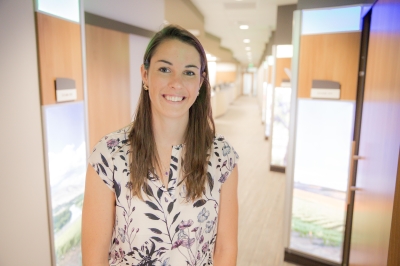 She will work in Othello three days a week and in Connell the other two.
Jesstine recently returned from a month-long Spanish language immersion class in Guatemala. "I learned a lot there," she said. "I can understand a lot of Spanish, carry on a basic conversation and hope to increase my fluency in time."
Jesstine grew up in Spanaway, WA and graduated from high school there. She moved to Spokane and attended Whitworth University from 2010 to 2012. From there she moved to the East Coast to attend Kean University in Union, NJ where she obtained her Bachelor of Arts in Biology. She went on to obtain a Master of Science in Physician Assistant Studies from King's College in Wilkes-Barre, Pennsylvania.
When not working, Jesstine is actively involved in community and home. She and her husband, Kittrick, own a 20-acre farm near Eltopia, WA. She says she "has a wonderful husband and a farm full of pets including four horses, goats, dogs, cats, chickens and one duck! I do the fun stuff…feed the baby goats and other animals."
She has combined her love of animals and her interest in helping children in the volunteer work she does.
Last fall she helped an organization called TROT in the Tri-Cities. TROT stands for Therapeutic Riding of Tri-Cities, and is run by a speech therapist and a physical therapist who have three therapy horses. Children come once a week for six weeks to ride the horses. They learn how to communicate with the horses and be comfortable around them. Some of the children are nonverbal and many have special needs. Jesstine was horse leader helping the children get on and off the horses making sure the child and the horse were in sync.
Jesstine and Kittrick have also volunteered as counselors at a weeklong overnight camp designed for kids with cancer.
When not working or volunteering, Jesstine likes to read; historical fiction is what she is reading now. She and Kittrick are also avid hikers. "Washington is such a beautiful state with lots of hiking available."
Jesstine Kane is now seeing patients. View her Welcome Video HERE.