Provider Spotlight - See What We Have Been Up To
Our providers have been hard at work taking care of our patients, doing research, presenting new research, publishing research, and mentoring our medical students!
There's no doubt that we have the best providers at CBHA, but words without actions mean nothing, right? So instead of just telling you how awesome they are, let us show you the amazing work that they have been doing lately.
COVID-19 Outbreak at Othello Long Term Care Facility:
In July of 2020, a Long Term Care (LTC) Facility in Othello, WA experienced a COVID-19 Outbreak. They did not have an on-site provider available or the right PPE to properly take care of their patients. With the support of CBHA, Dr. Mengyi Zha, Laura Ely, ARNP and Dr. Francisco Prada all volunteered their hours to round at the LTC Facility and provide proper triage for patients.
They were on-call for 24 hours a day. "We made sure they had everything they needed to be able to keep their patients and their staff safe," says Dr. Zha.
At the most recent American Academy of Family Physicians (AAFP) Conference, Dr. Mengyi Zha, MD, Dr. Jude Alsarraj, PhD, and Kirsten Myers (UW Medical Student), BA were given the opportunity to present the impact of Primary Care to a Long Term Care Facility during the COVID-19 Pandemic.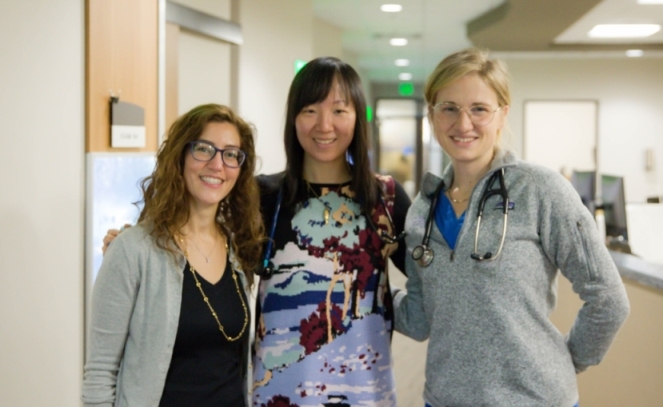 (Left to Right: Dr. Jude Alsarraj, Dr. Mengyi Zha, Kirsten Myers)
Their presentation showed the methods they used to support their hypothesis, the results and in conclusion were able to prove that primary care providers as frontline healthcare workers are well positioned to manage and triage an outbreak of COVID-19 in rural long term care facilities.
Impact of N95 Masks published:
We are so excited to announce that the research that our COVID-19 Task Force team did on the research of N95 Masks has now been published in the Journal of Investigative Medicine!
In response to the COVID-19 pandemic, the CDC advised that everyone wear a mask when they go out into public to reduce and prevent the spread of COVID-19. At the start of the pandemic, CBHA put together a COVID-19 Task Force that included a CBHA Medical Provider Dr. Mengyi (Zed) Zha, MD as the clinical liaison of the Task Force and Jude Alsarraj, PhD as a clinical team member of the Task Force.
Dr. Zha and Dr. Alsarraj then formed a research team that was in charge of finding out new information about COVID-19, how to protect our employees from being in contact with COVID-19, and how to safely provide care to our patients without spreading COVID-19. "Our main job was to sit down and research everything we could find about COVID-19. This was a new virus, no one knew anything about it, so there wasn't enough research out there that said exactly what we needed to do," said Dr. Zha.
To continue reading the story click here! And if you want to read their PUBLISHED article on the Impact of N95 Masks, check it out here.
We are so proud of our providers for always looking out for the health and well-being of our communities as a whole, and for stepping up as leaders and heroes during a pandemic. And not only have they put in the work, but they have been great examples and mentors to the future Doctors, Nurse Practitioners, Physicians and students going into the medical field.
We are so lucky to have them as part of our team and serving our communities. THANK YOU for all you do!